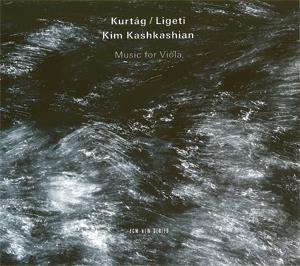 THE STRAD RECOMMENDS
The Strad Issue: January 2012
Description: Challenging but rewarding solo viola repertoire from a master player
Musicians: Kim Kashkashian (viola)
Composer: Kurtág, Ligeti

I don't know whether the term 'easy listening' is still fashionable, but the music on this CD could fairly be described as its complete opposite. Any effort required will be amply repaid, though, since this is some the most intense music written in the past few decades. Signs, Games and Messages is a continuing series of isolated movements by that post-Webernian miniaturist, György Kurtág. The earliest pieces date from 1961 – none of them surpasses the five-minute mark, and most are roughly around a minute in length. Kim Kashkashian has lived with this music for years (indeed, the notoriously fastidious composer has revised several movements with her in mind). She has internalised Kurtág's concentrated scores – which can include more words of instruction than notes – so that in her hands they sound as natural as a nursery rhyme.
The movements of Ligeti's Sonata were also composed piecemeal, between 1991 and 1994, but together they form a monumental six-movement counterpart to Bach's unaccompanied string masterpieces. Transcending the printed page, as in the Kurtág, Kashkashian is completely at home in the Sonata's idiom, or rather idioms, be it the gypsy-like C-string meditations of the 'Hora Lung?', the swinging 'Loop' or the obsessive 'Chaconne chromatique'.
ECM's lifelike recording faithfully captures Kashkashian's tone, which can reach almost unbearable heights of expressiveness.


Carlos María Solare