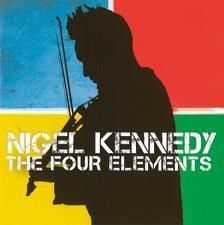 The Strad Issue: Feburary 2012
Description: Nigel Kennedy's venture into composition suggests he should stick to playing
Musicians: Nigel Kennedy (violin etc) Members of the Orchestra of Life
Composer: Kennedy
You can't fault Kennedy for ambition. Writing almost an hour of new music as a '21st-century response to Vivaldi's Four Seasons' is only part of the story – he steps in on piano, guitar and vocals in some of the tracks, too; oh and he plays the violin a bit as well. Just not enough on this album to atone for the swathes of bland riff-scapes he strings together.
The ensemble music is all performed and produced well, from the full-blooded 'Earth' to the sparse, electronic beat and attractive vocals of 'Air'; but the material is often anodyne – think mediocre musical theatre doing rock pastiche – and over-long. In fairness, 'Water' does have a freshness about it, but is spoiled by the sudden arrival of a wailing violin solo. This would have been welcome in the previous movement, when Kennedy's solo is good but low in the mix. Instead, however, everything seems to happen the wrong way round.
If you like what Kennedy does with a violin then parts of this music will appeal. In 'Air', for instance, his electric solo is drenched in reverb and pedal effects before he shows some flashes of acoustic brilliance – but these moments are too few and far between.



James Crel