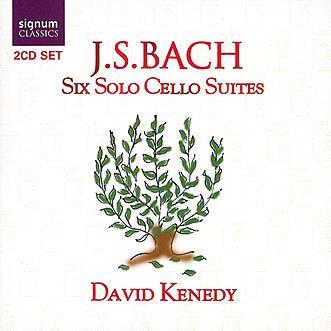 The Strad Issue: January 2007
Musicians: David Kenedy (cello)
Composer: Bach
Having been inspired to take up the cello through listening to Casals's recordings of the Bach suites, it's perhaps inevitable that David Kenedy, a pupil of Aldo Parisot and Boris Pergamenschikow, should have approached the prospect of setting down his own interpretations of these works with some trepidation. The challenges are legion, not merely through trying to master the harmonic and contrapuntal implications of the music within one line, but also in attempting at the same time to preserve the spirit of the dance. But Kenedy's performances are obviously carefully thought through, with a clear emotional map of each suite in his mind and with a harmonic and contrapuntal logic that is effectively portrayed in the kind of warmly recorded performances you'd be happy to hear in the concert hall.
What characterises the benchmark recordings of these works however is the other less quantifiable elements. The scope for poetic nuance is not as fully realised here in the preludes and allemandes as in some other recordings – not least Anner Bylsma's on Sony. Although the Fourth Suite's Prelude evokes the sound of an organ most effectively, the cadenza-like flurries could be more imaginatively delineated. In the other suites the gigues and courantes would have benefited from a more rustic edge to maximise the contrast with the stately minuets. Kenedy's booklet notes project a very definite concept of mood within the suites, but this could have been even more dramatically realised. In the Prelude of the Fifth Suite, he might have effected a more tragic mood so that the middle dance section could then take off in bolder contrast. In essence it is a case perhaps of liberating all the careful thoughts and giving the green light to fantasy.
Joanne Talbot