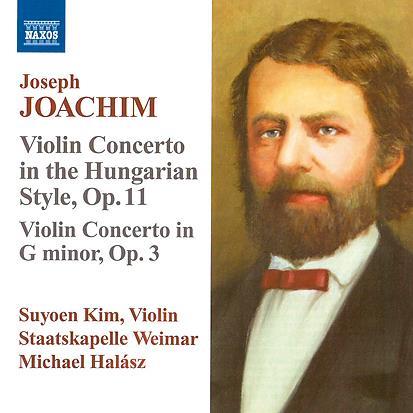 The Strad Issue: January 2010
Musicians: Suyoen Kim (violin) Weimar Staatskapelle/Michael Halász
Composer: Joachim
Joachim's name as one of the most profound musicians of the 19th century is linked primarily to his violin playing, although his talent as a composer was of equal potential. His cadenzas are perhaps his most frequently heard music today.
The op.3 Concerto has great freedom of form and an easy Romanticism, while the 'Hungarian' Concerto is a tour de force and one of the longest and most difficult works in the repertoire. Joachim's control of orchestral colour is exemplary and his influence upon Brahms is evident.
German-trained Suyoen Kim, winner of the 2005 Young Artist Award of North Rhine-Westphalia, delivers clean and muscular performances and the Weimar Staatskapelle plays in exemplary fashion, the whole enterprise being recorded cleanly and sensitively by Naxos. Only some rather contentious remarks in the booklet notes by Keith Anderson regarding Joachim's attitude to Wagner mar this superb disc.
Kim's command of the works' many challenges is excellent, with commendable purity of intonation and a warmth and depth to the sound, especially in bravura passages on the G string. Her playing, while familiar to modern ears, would undoubtedly have attracted the composer's criticism, though, in terms of both vibrato (Kim uses a modern, 'continuous' vibrato of which Joachim would have strongly disapproved), and rhythm, which would have been much more elastic than here (as his own discography illustrates).


David Milsom