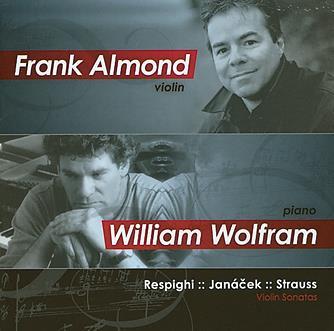 The Strad Issue: January 2007
Musicians: Frank Almond (violin) William Wolfram (piano)
Composer: Janácek, Respighi, Strauss

Despite the supreme advocacy of Kyung-Wha Chung and Krystian Zimerman on an award-winning Deutsche Grammophon release back in 1990, the Respighi Sonata has failed to make much of an impression either on disc or in the concert hall. The heady virtuosity of the piano accompaniment may have something to do with it (although that hasn't prevented the Franck or Strauss sonatas from achieving wide popularity), but I suspect the real reason is that despite the masterly writing and chromatically intensified passions regularly unleashed, it is desperately short on memorable ideas.
Frank Almond, a former Dorothy DeLay pupil and currently concertmaster of the Milwaukee Symphony Orchestra, and William Wolfram throw themselves into the fray with infectious abandon (the otherwise fine recording comes perilously close to meltdown during the final's more explosive outbursts). But even such devoted artistry doesn't quite convince that this is anything other than one of Respighi's near-misses.
Turn to the Strauss Sonata (itself hardly one of the master's finest works) and one immediately senses the creative juices flowing with an inspired fluency denied the Italian. Once again Almond and Wolfram pull no punches, relishing the work's soaring lyricism and coruscating brilliance with an enraptured intensity and abandonment that generate the greatest excitement.
The Janá?ek is interpretatively a tougher nut to crack, which may explain the number of fine artists who have sounded decidedly unconvinced and unconvincing on disc. Yet by throwing caution to the winds and warmly embracing it as a vital part of the post-Romantic tradition, Almond and Wolfram sweep any potential problems aside.
JULIAN HAYLOCK