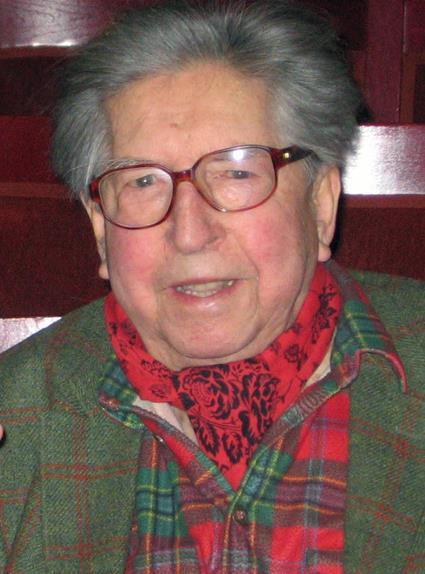 The French composer Henri Dutilleux has died in Paris at the age of 97. He represented one of the very few surviving members of a generation whose music stretches back to the beginning of the 20th century.

Dutilleux (pictured) wrote extensively for strings, including concertos for Mstislav Rostropovich, Isaac Stern and Anne-Sophie Mutter. His highly distinctive, often harmonically sumptuous works follow in the colouristic traditions of Debussy, Ravel and other French composers, but he forged a highly personal path that took in the more radical developments of the later 20th century.

Born in Angers in 1916, Dutilleux became a close acquaintance of Francis Poulenc, Darius Milhaud and André Jolivet on his move to Paris, but stayed apart from any of the French capital's contemporary music associations. Studying at the Paris Conservatoire, he won the Prix de Rome with his cantata L'anneau du roi in 1938, but the outbreak of World War II prevented him from completing his residency in Rome and forced him to return to France. Dutilleux subsequently worked as a pianist and music teacher, as choir director at the Paris Opéra, and later as professor of composition at the École Normale de Musique and the Paris Conservatoire.

He established his name with his two symphonies (1951 and 1959), in which he explored the organic development of themes, and an individual approach to harmony that blended modality, polytonality and atonality. He dedicated his 1970 cello concerto Tout un monde lointain... to Mstislav Rostropovich, with whom he maintained a lifelong friendship. In 1985 Isaac Stern premiered his violin concerto L'arbre des songes, which he had commissioned, one of Dutilleux's rare works to be entirely atonal. In between, he wrote the string quartet Ainsi la nuit (1976), in seven movements and four 'parentheses' that recall or foreshadow music heard in the rest of the work. It was intended for the Juilliard Quartet, who gave its first US performance in 1978, but was premiered by the Parrénin Quartet in Paris in 1977.

Dutilleux also wrote a violin concerto, Sur le même accord, in 2002 for Anne-Sophie Mutter, and several smaller pieces for Rostropovich, including Trois strophes sur le nom de Sacher (1976–82) and Fanfare for Slava (1997) to celebrate the cellist's 70th birthday.
Photo: Schott Promotion / Milan Wagner