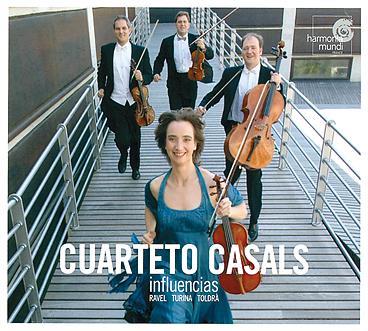 The Strad Issue: January 2007
Musicians: Casals Quartet
Composer: Ravel, ToldrÁ , Turina
It was as a violinist and founder of the Spanish Renacimiento Quartet that the composer Eduard Toldrà was best known. The title was symbolic, for Toldrà (1895–1962) was identified with the Renaixença ('Renaissance'): a Modernist movement spurring a revival of artistic consciousness in Catalonia during the early 20th century.
Vistes al mar (1921) is an appetising work in which Toldrà offsets a trio of evocative sea-related poems by Joan Maragall (1860–1911), each hauntingly declaimed, with three short instrumental movements. The Casals Quartet brings a lovely yearning quality to the introspective 'In the distance over the sea', which includes a haunting passage for muted violin played by the leader, Abel Tomàs Realp, and all sparkle in the Janá?cek-like patterns that inform the sprightly final section.
These gifted players, who met as students in Madrid, have a clear empathy that yields equally fine results in Oración del torero (1925) by Joaquín Turina. This polished miniature depicts the moments spent in a chapel by a bullfighter immediately before facing the danger of the bullring, and movingly brings out both the anxiety and prayerful anticipation felt by the man, almost as much a 'victim' as the bull whose life he must end.
Especially gratifying is the Casals players' insight into later movements of the Ravel Quartet: the assez vif, especially the contrasting central section and beautifully phrased return to the Scherzo theme, is magical, and the mutual alertness suffusing the très lent also impresses in their buoyant finale. Harmonia Mundi Iberica, which released the Casals's gorgeous recording of the three Arriaga quartets, has captured these fine performers admirably
Roderic Dunnett