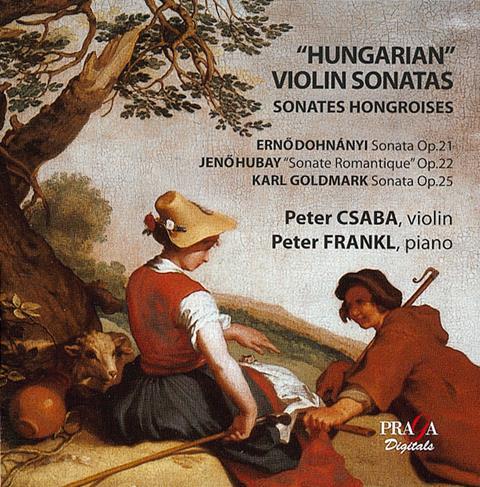 The Strad Issue: January 2006
Musicians: Peter Csaba (Violinist), Peter Frankl
Composer: Dohnányi, Goldmark, Hubay
Dohnányi is one of those late-Romantic figures whose exact stylistic proclivities are difficult to pin down. At times he can seem emotionally cool, at others he borders on the effusive; occasionally the virtuoso side of his temperament gets the better of him, yet, as in the masterly op.21 Violin Sonata, he could turn his hand to Germanic structural integrity with equal success. Imagine Brahms's G major Sonata filtered through Fauré's A major and you'll have some idea what to expect. It deserves to be far better known, and those celebrated veterans Peter Csaba and Peter Frankl play with such compelling warmth and poetic intensity that it's difficult not to be won over.
Csaba's golden tone, seamless cantabile and skin-tingling portamentos come into their own in the Hubay Sonata, complemented to perfection by Frankl's absorbing pianism. On paper this may appear little more than a typical generic offering of the mid-1880s, yet played like this, with the utmost conviction and sense of emotional identity, it leaves an indelible impression.
Karl Goldmark's brand of post-Mendelssohnian Romanticism has not worn particularly well – the delightful Rustic Wedding Symphony was once a staple favourite, and the Violin Concerto was recorded with distinction by Milstein and Perlman (both EMI), among others. Even in so devoted a performance as this, his op.25 Sonata lacks a really strong melodic and harmonic identity, yet Csaba's and Frankl's playing is so ravishingly inspired that it really doesn't seem to matter. A cherishable disc, glowingly engineered.
JULIAN HAYLOCK