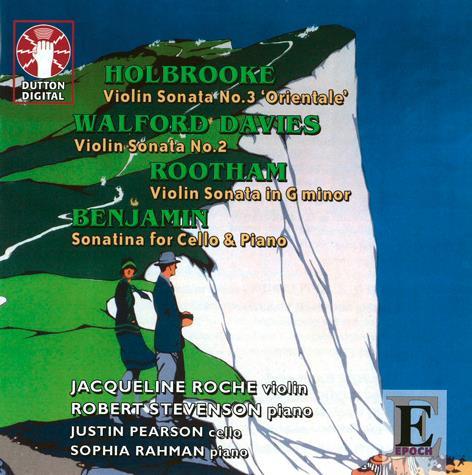 The Strad Issue: January 2009
Musicians: Jacqueline Roche (violin) Justin Pearson (cello) Robert Stevenson (piano)* Sophia Rahman (piano)†
Composer: Holbrooke, Walford Davies, Rootham, Arthur Benjamin
This disc of rarities by little-known English composers is of mixed appeal but is for the most part very finely performed. Joseph Holbrooke's Violin Sonata no.3 'Orientale' of 1926, given its world premiere recording here, is a real find – deliciously chromatic and laced with touches of Debussy in its harmonic language, particularly the occasional use of the whole-tone scale.
Jacqueline Roche delivers its rich themes with a lavish tone colour and Robert Stevenson accompanies with a sensitive touch. Stevenson's booklet notes, however, can be rather less perceptive: he questions Holbrooke's 'Orientale' title, suggesting that 'the idiom might better be described as akin to "Red Indian" (Native American) music'.
The Second Sonata by Henry Walford Davies (1896) is also here recorded for the first time. In a more fervently Romantic, Brahmsian vein, it is not as charismatic as the Holbrooke, but is performed with warmth and passion, aside from a disappointingly sloppy downward run from Roche in the finale. Cyril Rootham's Violin Sonata in G minor owes much to Vaughan Williams in its bleak, melancholy pastoralism. The players breathe life into the yearning chromaticisms of its opening Allegro, and the finale has a wonderful, sprightly brilliance.
Problems of balance mar Arthur Benjamin's Sonatina (1939), where Justin Pearson's cello is too low in the mix to bring this characterful piece to life, and is all but swamped by the piano (Sophia Rahman) in the brash, Shostakovich-like march. The disc is a commendable attempt to bring little-known composers to public attention, but the result is too patchy to merit a firm recommendation.


Catherine Nelson