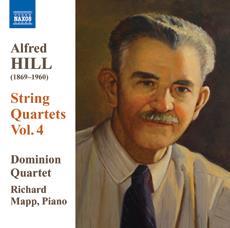 The Strad Issue: January 2012
Description: Antipodean chamber music that needs more stimulating advocates than here
Musicians: Dominion Quartet, Richard Mapp* (piano) singers/Mark Dorrell* (conductor)
Composer: Hill
This is the fourth instalment in Naxos's survey of the 17 string quartets by Australian composer Alfred Hill (1869–1960). They're an odd bunch. The tenth and eleventh quartets both date from 1935 but occupy different musical worlds. The tenth is built out of a bold opening theme that pervades its four movements, backed up by a second that threatens to turn into Gershwin's I got rhythm. It's one of several of his quartets that Hill later orchestrated. Unfortunately, the palette of colours this suggests is not really revealed by the Dominion Quartet. The playing is perfectly serviceable, but rather bland, with rigid phrasing.
For the eleventh quartet, said to be Hill's favourite, he shifts into impressionist mode. This fares a little better than its cousin, with the players more alive to Hill's questioning phrases and sudden contrasts. It is a more vivid and colourful work anyway.
The Piano Quintet comes as a bit of a shock, lurching back from 1935 to 1912 and firmly grounded in the 19th century. It is a programmatic piece about life's mystery, hope and so on, to which the quartet, aided by pianist Richard Mapp, are suitably responsive, though without generating the vibrancy that lurks in the score. The last movement, featuring eight singers and a text by the composer, drips with Victorian sentimentality.
TIM HOMFRAY