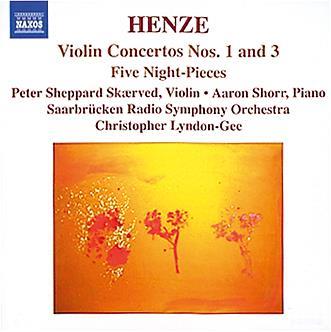 The Strad Issue: January 2006
Musicians: Peter Sheppard Skærved (violin) Saarbrucken Radio Symphony Orchestra, Christopher Lyndon-Gee (conductor)* Aaron Shorr (piano)†
Composer: Henze
Henze's musical gifts and socio-political ideals have always directed him towards musical individuation: even the more sprawling of his orchestral works abound in soloistic virtuosity, and his operas and concertos all reveal a concern for the real protagonist rather than highfalutin abstracts. That he has always valued a strong sense of dramatic narrative is clear from the First Violin Concerto. It was written in 1946 – Henze was all of 21 – but it is in no sense an apprentice work. The four movements are shot through with both his appreciation of Berg and Stravinsky and the rigour of his study with Wolfgang Fortner, which barely reins in the concerto's overall extroversion and the soloist's many opportunities to rhapsodise. Peter Sheppard Skærved's big-boned, strong playing is given an appropriately forward balance by the engineers: no way is this soloist primus inter pares.
Cadenzas litter the Third Violin Concerto (1997) to an even greater degree. The feeling for melody is still strong, but there is a blurry quality to the harmony and a thicker orchestration that is common to Henze's later works. Sheppard Skærved does not enjoy so advantageous a balance with the orchestra, and in the long slow movement I sense a lack of momentum. The programme may be partly to blame: the conceit is that Henze has brought to life the violin concerto composed by Adrian Leverkühn, the syphilitic genius of Thomas Mann's Doktor Faustus. Those who have read the novel will readily identify the characters who inspire each of the three movements – the sultry über-whore Esmeralda, the doomed child Nepo and Leverkühn's dangerously brilliant pet violinist Rudi – and maybe find it too hard to detach one medium from the other.
The five understated miniatures that make up the Night Pieces (1990) are much more laconic, and successful examples of Henze's late style; Sheppard Skærved is ably partnered by Aaron Shorr in finding the nuance of each.
Peter Quantrill