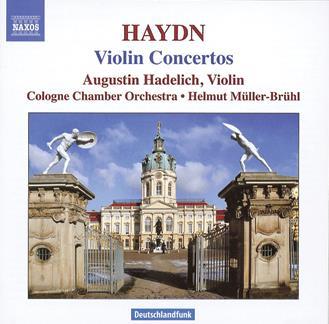 The Strad Issue: January 2008
Musicians: Augustin Hadelich (violin) Cologne Chamber Orchestra, Helmut Müller-Brühl (conductor)
Composer: Haydn
2006 Indianapolis Competition victor Augustin Hadelich gives impressive accounts of Haydn's three surviving violin concertos. Although there is plenty for advocates of period performance to baulk at, not least the content of his cadenzas, Hadelich's affectionate, yet resilient treatment of these works is immediately captivating.
Tempos in the outer movements are slick, and there is little that is 'moderato' about the spirited opening Allegro movement of the C major Concerto, with its characteristic dotted rhythms. Nevertheless, Hadelich articulates the solo passagework with apparent ease and crystal clarity; similarly, he masters with brilliance and panache the challenging rapid figuration in tenths and Vivaldian string-crossing patterns in the fleet final Presto. The reading of the A major Concerto's finale is also outstanding, the orchestra coming quasi-symphonically to the fore and indulging in contrapuntal interplay with the soloist. Similarly, the two-part counterpoint of the finale of the G major Concerto propels it along with energy and vigour.
The central slow movements of all three concertos are charmingly conveyed, but the Italianate Adagio of the C major work is by far the most lyrical and endearing. Following its simple scalic introduction, Hadelich embarks on an expressive solo cantilena over pizzicato accompaniment, shaping the line with innate musicality.
The perceptive and telling contributions of Helmut Müller-Brühl and the Cologne Chamber Orchestra result in synergetic interpretations commendable for their attention to detail. Despite their slightly over-reverberant ambience, the recordings are of demonstration quality; tonally truthful and expertly balanced, and they display Hadelich's 1683 ex-Gingold Stradivari violin to optimum effect.
ROBIN STOWELL