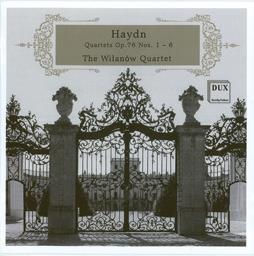 The Strad Issue: January 2012
Description: Haydn performances where the jokes too often fall flat
Musicians: Wilanów Quartet
Composer: Haydn
The award-winning Wilanów players invest their wealth of experience and artistic sensibility in these recordings of Haydn's popular op.76 set. Their readings are civilised, warm-toned and technically assured but often lack the urgency, lightness of spirit, and sheer sense of fun that inform those of many of their competitors. And when they attempt to augment Haydn's wit with some eccentric fragmentation of the phrasing in the trio of no.1, the joke backfires.
Their deliberate tempos in, for example, the first movements of nos.1 and 4 result in doggedly cautious accounts with limited 'spirito' and little quick-witted interplay. The finales of nos.3 and 5 suffer from a similar excess of sobriety, as do also the scherzos (as called or seem) of nos.1 and 3 and the trio of no.2; and the impression of under-vitalisation is often enhanced by a want of variety and point in the phrasing and an ironing-out of dynamic contrasts. However, at other times, notably in the finale of no.6, their sturdier pacing enables them to characterise detail vividly while bringing to the music greater control and cohesiveness.
They are most convincing in the slow movements, bringing to them an expansiveness, poise and unanimity, along with a sure feeling for the long line, particularly in nos.1, 3, 4 and 5. The recording is adequate, but the balance tends to favour the first violinist, resulting in uneven reproduction of musical detail such as the interplay of the 5ths motive in the opening Allegro of no.2 and the triplets in the finale of no.3.



ROBIN STOWELL