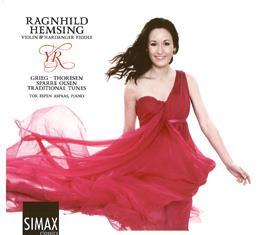 The Strad Issue: January 2012
Description: Norwegian music for violin and Hardanger fiddle from a skilled young player
Musicians: Ragnhild Hemsing (violin/Hardanger fiddle) Tor Espen Aspaas (piano)
Composer: Grieg, Olsen, Trad.
On the evidence of this recording, 23-year-old Ragnhild Hemsing is destined for great things. Already a leading performer in her Norwegian homeland (she made her debut aged 13 playing the Mendelssohn Concerto with the Bergen Philharmonic), last year she made quite an impression playing Halvorsen's Fossegrimen Suite for Chandos.
Hemsing brings a youthful freshness and exuberant spontaneity to Grieg's F major Sonata that fully convey the lyrical enchantment and innocence of this delightful early work. Yet where she really comes into her own is on the CD's video track (easily accessible on a PC through the disc menu) of Lasse Thoresen's Yr for solo violin and dancer, a work of ear-tweaking inventiveness that Hemsing brings hypnotically to life and is captured with alluring clarity by the Simax engineers.
Grieg was influenced greatly by the sound of folk instruments, most especially the Hardanger fiddle, an instrument usually with four or five sympathetic strings that resonate under the fingerboard. Hemsing creates the most magical sounds on her Hardanger instrument, most notably in Hulder Tune from Vang, which uses the unconventional tuning F–C–A–E. In her skilled and deft hands, the various drone effects possess an emotional resonance that lingers long after the music has stopped.
JULIAN HAYLOCK