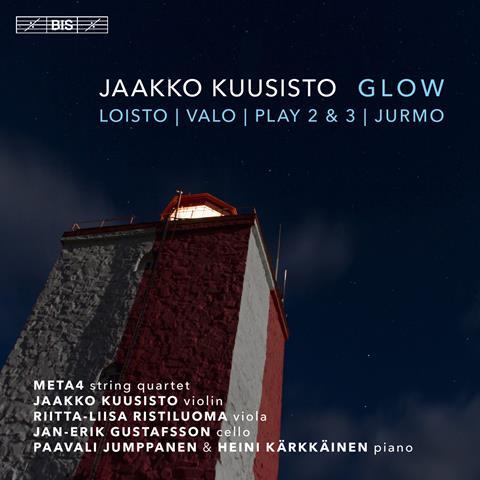 The Strad Issue: October 2016
Description: Finnish violinist turns composer for a debut disc of chamber works
Musicians: Meta4, Jaakko Kuusisto (violin), Riitta-Liisa Ristiluoma (viola), Jan-Erik Gustafsson (cello), Paavali Jumppanen, Heini Kärkkäinen (pianos)
Composer: Jaakko Kuusisto
Catalogue number: BIS 2192 (SACD)
The Strad described Jaakko Kuusisto's Violin Concerto as 'lush' and the same word applies to much of the music here, though it's rarely indulgent and generally steers clear of neo-Romanticism, for all its moments of clear tonality. There are shades of Prokofiev in the music's spiky surfaces and of Sibelius in its patterning, its sense of strain and the way it seems to carry its own, idea-generating momentum. Everywhere Kuusisto's experience as an orchestral leader, chamber musician and conductor shows.
This is notable in the single-movement string quartet Play III, which is tense and effective but absolutely born of its instrumentation. Meta4 is brilliant in the 'swarming' effects that emerge early on and return to close the piece. Kuusisto himself joins Paavali Jumppanen for Valo ('Light'), which shows even more the composer's ear for unusual textures and effects that always further the conversation. His playing is delicious and assured. More distinctive ideas follow in Play II, while Loisto ('Glow') winds up and winds down again through various testing ideas originally conceived to challenge contestants at the 2000 Sibelius Competition.
Only the solo piano piece Jurmo grated on me, with its shift in style towards anaemic, ambient minimalism. Otherwise, this is music that would liven up any programme, captured in excellent sound.
Andrew Mellor