The Strad writer E. Polonaski bemoans the number of string players with suspect intonation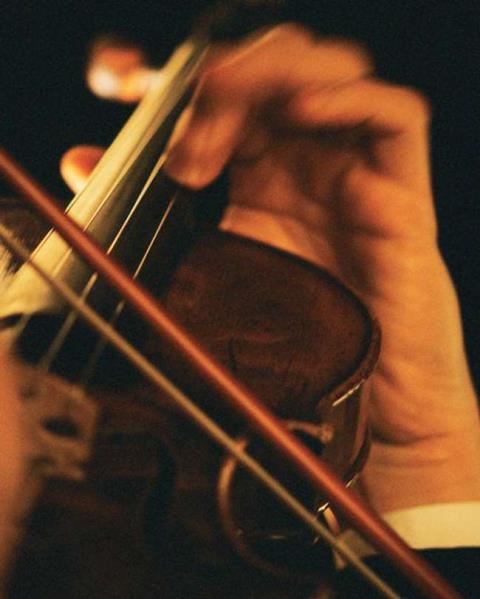 At the recently held examinations of the College of Violinists, the important question cropped up: 'How many violinists are there that play in tune, and how many are there that play out of tune?' If you can help me, fair reader, to solve this conundrum I shall be very glad, as far as I am concerned, I give it up in despair!
'He' or 'she plays in tune' or 'out of tune,' is frequently said of violinists, no matter whether they are artists of the first water, or mediocre professionals or amateurs. The same term is used of vocalists whose intonation is still more frequently imperfect than is the case with players of stringed instruments. Provided their instrument is in perfect tune, they cannot help playing at least some notes in tune, whilst the singer is totally at sea in that respect and his defects become still more painfully apparent.
A great deal of time is wasted by students of negligence and, in many cases, ignorance of their teachers. They come week after week, give what they call their lesson and go again without having in the least benefitted their pupil. Many cases have com to my notice in which the master is distinctly to blame for having over-estimated the abilities of his pupil. Everybody must play Mendelssohn's and Beethoven's Concertos or Bach's Chiacona or Paganini's Studies. We all play them, every little boy or girl that pride themselves on being 'students' at such and such an academy or school! Only you must not ask 'how we play these works,' we play them sometimes in tune, but in any case to our own entire satisfaction, which not unfrequently is endorsed by unconscientious masters and flattering relatives or parent, who are perhaps not sufficiently musically educated to perceive the faults of their children.
I maintain that to play a comparatively easy piece well, is far more creditable to the player than to play a difficult piece out of tune and in bad style. Anyhow, the strictest attention ought to be paid by the master to the intonation of his pupil, who ought never to be allowed to play a single note that may be called out of tune. Pass by no passage which does not sound absolutely correct. A good plan, and one followed by many a good violinist, is to use the full length of the bow for each note, playing the scales or exercises slowly, entirely disregarding all given bowings and tempos. This way of practicing results in the acquirements of pure intonation with a firm bowing and a round, full tone.
The unconsciousness of players themselves in that respect is very frequently to be marvelled at. They simply do not know that they play out of tune and if you tell them so, or try to correct them, they will not believe you. I know of a violinist who classes himself as belonging to the noble profession of virtuosos, who plays deplorably out of tune, even in the easiest pieces! One day he announced that he would perform Ernst's Othello Fantasia at some penny reading; I went to hear him and what do you think his Othello Fantasia consisted of? It was a mixture of about a dozen different pieces, containing the easiest portions and winding up with a kind of coda of his own, more diabolic in its construction than gratifying to the ear, for from beginning to end there was not a note in tune.
Another violinist, who also considers himself a player, insists on paying visits to all his friends, together with his violin, in order to treat them to 'a tune.' If he only knew how little his visits are appreciated, he would certainly stop at home instead of inflicting such tortures on his unfortunate fellowmen. This violinist has a large circle of friends, so that he does not give me the pleasure of his company more than perhaps twice a year, but even that falls rather hard on my nerves and on those of my unfortunate friend, the pug dog, who invariably beats a hasty retreat immediately my aforesaid violinist puts in his appearance. The other day he treated me to a strong dose; excerpts from Joachim's Hungarian Concerto; after he had finished the first movement I was obliged to ask him what he had been playing, to which question he proudly, and at the same time contemptuously (I presume t my ignorance) answered: 'only a part from the first movement of Joachim's Concerto; is it not a noble work?'
Many are the excuses that can be made for playing out of tune. I remember having been some years ago at one of those abominations called 'At Home,' where music formed a formidable accompaniment to the small talk and clattering of teacups and spoons of the guests. A young lady came forward to play the violin. She at once took possession of about half-a-dozen chairs and the whole top of the piano, on which she spread out several silk handkerchiefs, violin pads, bows, string boxes, in short every imaginable article required by violinists. Now she sounded the A on the piano, now she plucked the A string on the violin, and this went on for about a quarter of an hour. Suddenly all the pegs ran down, the bridge tumbled over and we came to a dead stop! In her dilemma she took a courageous leap across the room to where I stood. 'I hear you play the violin,' the fair maiden said, 'will you come and help me?' I did so and put everything in proper order in a few minutes. Now came the performance! It was the slow movement from poor Mendelssohn's Concerto, at least, so she told me afterwards, else I would not have believed it, and she confessed to me that she was so nervous! 'That accounts for your playing, Miss,' I said, somewhat dryly. In another case, at the breaking up of a Ladies' School, a girl that had never played before with the piano accompaniment played the violin (accompanied by her teacher), with a pair of white silk gloves on her hands. Of course it was all cats; the one playing in one key, the other in a totally different key.
I have the pleasure of knowing another violinist who also plays sadly out of tune; he is in the habit of curing any bodily ailment by playing the violin. If he has the headache, he will treat himself to Leclair's Sarabande and Tambourin, or if he has the toothache, he will render Bach's Chaconna, and so on. But the most novel experiment was when I went to his house one day to find him literally roasting himself over a tremendous fire, seated in a big arm chair with his feet in a pail of hot water with mustard and fiddling away as if his life was at stake, at what I faintly recognised to be portions from Tartini's 'Le Trille du Diable.' I stopped short at the door, looking in blank astonishment at the fiddling, groaning, wheezing and perspiring object of my commiseration, for the temperature in the room was almost suffocating. At last I exclaimed: 'What on earth is the matter with you, old man?' when a low bass voice answered in a husky tone; 'Oh, I have a fearful cold!' I subsequently learnt that my friend had been cured of his cold, but I know of no remedy that will ever cure him of the habit of playing difficult music 'out of tune.'
This article was first published in The Strad's March 1893 issue. Subscribe to The Strad or download our digital edition as part of a 30-day free trial. To purchase single issues click here.