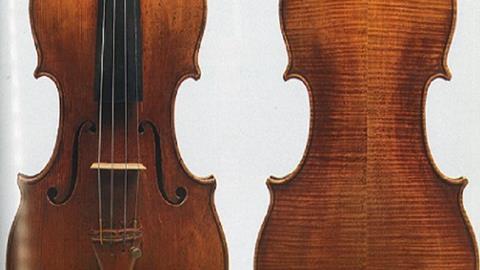 This illustration of the 1667 'Aranyi' Stradivarius violin was published in The Strad, November 1986. The following text is extracted from the article accompanying the photographs:
Sotheby's had two Strads at the September 1986 sales - both pre-1700. The 'Aranyi' of 1667 has the distinction of being the first to be illustrated in Doring's 'How Many Strads?' and Goodkind's monumental 'Iconography of Stradivari'; it is also pictured in the book of the 1937 Cremona Bicentenary Exhibition and yet again in the Henley work.
Often credited with being the first authenticated violin of its maker, Hill's in their classic book on Stradivari have no doubt that he completed instruments before the 'Aranyi', an amazingly mature work for the 23-year-old maker. Yet in popular imagination the legend persists about the premier position of the the 'Aranyi' with its typical Amatese shaping, sound holes, elongated corners and slightly small dimensions, but still handsome as only a Strad can be.