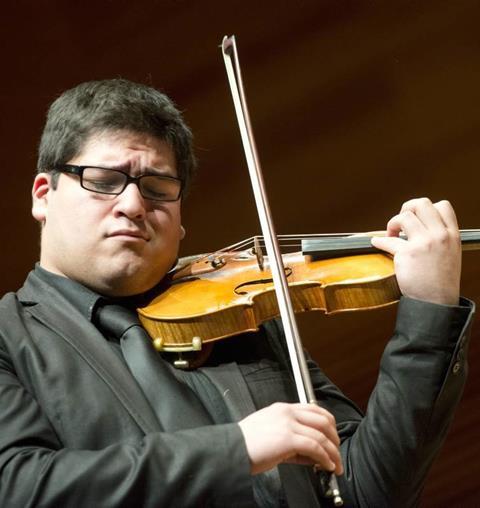 David Castro-Balbi of France has won a clutch of awards at the recent International Louis Spohr Competition for Young Violinists held at The Liszt School of Music in Weimar, Germany. The 19-year-old violinist (pictured) was awarded the first prize in category 3 of the competition, for players born between 1995 and 1993, as well as a junior-jury prize and special prizes for the best interpretation of a violin concerto, a virtuoso work and a Beethoven or Mozart sonata.
The winner of the category 2 prize, for players born between 1998 and 1996, went to French-German player Nathan Mierdl, aged 15, and the top prize in category 1, for candidates born in 1999 or younger, went to 14-year-old Sophie Wang of Taiwan.
Castro-Balbi performed Mendelssohn's Violin Concerto in E minor op.64 in the finals; Wang and Mierdl both chose Bruch's Violin Concerto no.1.
Second prizes in all three age groups went to (from categories 1–3): Sueye Park of Korea, Anna Tanaka of Russia and Reina Shibutani of Japan. Third prizes went to Ziyu He of China, Belgian Vilmos Csikos and Latvian Eugene Chepovetsky.
Both Sueye Park and Anna Tanaka also won their category junior-jury prizes and Tanaka also won the prize for the best interpretation of a contemporary work.

Read Rebecca Schmid's report of the competition here.


Photo Maik Schuck