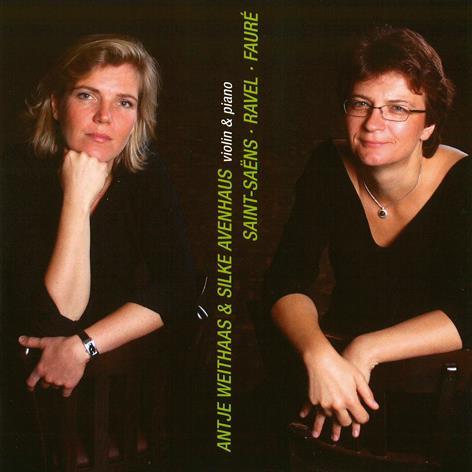 The Strad Issue: January 2009
Musicians: Antje Weithaas (violin) Silke Avenhaus (piano)
Composer: Saint-Saëns, Ravel, Fauré
The earliest of these three works comes from the musically passionate Romanticism of Gabriel Fauré, who was a pupil of Saint-Saëns. Fauré's sonata is played here with a radiant excitement, and the outer movements hasten forward with a spontaneity of phrasing that yields unbridled happiness. It is very much a shared experience, with pianist Silke Avenhaus's robust participation heightening the moments of animation. There is a likeable lyricism in the slow movement, where Antje Weithaas's liberally applied vibrato creates a honeyed tone before she contrasts this in the lean quality of a mercurial scherzo.
By comparison the opening of Saint-Saëns's First Sonata comes across as a powerful statement, made all the more robust by the duo's forthright performance. If there are moments in the perpetual-motion finale where violin intonation becomes questionable, it is at least good to hear the movement performed with such vivacity, and Avenhaus ensures that as much of the work's musical message comes from the keyboard as from the violin.
The Ravel Sonata came 42 years later, in 1927, by which time the world had irreparably changed and music had moved into a different era. That transformation does not happen here: the performance is all too earnest, and passages where the music needs to sparkle miss the necessary fantasy and subtle colours. Ravel's smoochy Blues is beautifully played, but misses the mood intended.
I find the sound, recorded in association with German Radio, as with many others from this source, perfectly balanced, yet with the feel of each of the two instruments recorded in a different ambiance.
DAVID DENTON