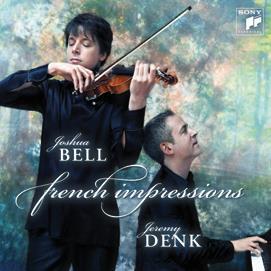 The Strad Issue: January 2012
Description: Joshua Bell excels in repertoire that has always been close his heart
Musicians: Joshua Bell (violin) Jeremy Denk (piano)
Composer: Saint-Saëns, Franck, Ravel
Joshua Bell and Jeremy Denk have been regular duo partners for seven years now, but this is the first time they have made a CD together. Their simpatico musical relationship is clear from the outset, in the gentle, nuanced playing of Saint-Saëns's First Sonata, as they swap themes and ideas back and forth. In the second movement Bell's playing is quite simply gorgeous, his tone lustrous, his phrasing nicely enhanced by finger changes on repeated notes.
Franck's Sonata has a particular meaning for Bell, whose teacher Josef Gingold was himself a pupil of Ysaÿe, for whom Franck wrote the work. His playing of the first movement is refreshingly simple and reflective, and in the second both players emphasise line rather than going for the drama. The last movement has its moments of weighty climax, but there is a feeling more often of power reined in. It's a deeply considered and rewarding performance.
The Ravel is light and spacious, full of delicate colouration and subtle melodic contours. The 'Blues' second movement has a delicate refinement to it, the jazzy elements handled with elegance and grace, and the 'Perpetuum mobile' finale flashes past with understated virtuosity. The recorded sound is excellent, clear and balanced.
TIM HOMFRAY