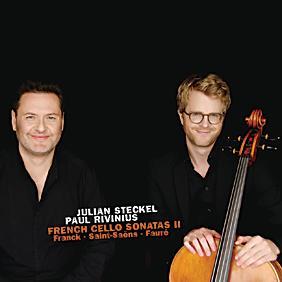 The Strad Issue: May 2015
Description: Warm-toned playing in a second instalment of French cello works
Musicians: Julian Steckel (cello) Paul Rivinius (piano)
Composer: Fauré, Franck, Saint-Saëns
German duo Steckel and Rivinius follow up their well-received 2011 French Cello Sonatas disc with an equally rewarding second instalment. Franck's Sonata opens in delightfully laid-back style in their hands, followed by passionate crescendos of emotion in the second movement. Ensemble is impeccable – the music flows as if out of a single instrument. Steckel creates a caressingly warm tone in the third movement and his modern Urs Mächler cello findsa clear, singing resonance in the high passages of the joyful finale, notable for its clarity of sound and texture.
Saint-Saëns's Second Sonata is conceived on a grand scale and these players wholeheartedly embrace its declamatory gestures and heart-on-sleeve Romanticism. Rivinius plays the rapid notes of the scherzo and finale with a show-stopping virtuosity, showcased by a recorded balance that favours the piano more than some recordings, but not quite matched in precision by Steckel when the scalic runs pass to the cello.
As in the duo's previous disc, Fauré is represented by shorter pieces rather than his sonatas. A forward-moving tempo keeps the Élégie from becoming too ponderous and Steckel shows himself to be a master of tonal nuance, changing the mood even within a long note, and again finding that beautiful warmth of tone.
JANET BANKS