The Strad's editor Emma Baker introduces the January 2023 issue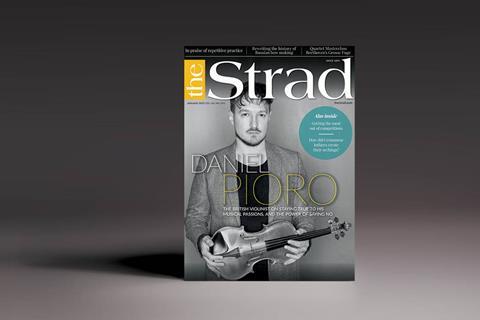 We've come a long way over the past twelve months, on the one hand largely leaving behind social distancing and lockdowns and returning to a more normal life, which for musicians has meant a welcome return to live performance and travel. On the other hand, we are in a place of unprecedented geopolitical and economic turmoil, due in part to the appalling war in Ukraine. But we must look to 2023 with hope and stand by the courage of our convictions.
For our cover star, the British violinist Daniel Pioro, the new year brings a continuing residency at London's Southbank Centre including, on 22 January, an intriguing musical pilgrimage where he will play Biber's Mystery Sonatas over the course of the day, from dawn to dusk. For those who can't make it to London, Pioro also has a new album that combines the ancient (Hildegard von Bingen) with the most up-to-date new music. He talks to Tom Stewart about his musical philosophy on page 26.
Whether you love them or hate them, taking part in competitions is almost inevitable for the serious string player. However, the truth is that the vast majority of entrants will leave without a prize. How best to cope with this? The answer can be summed up by Nelson Mandela's quote:
'I never lose; I either win or learn.' Competitions can offer an unparalleled learning experience,
if approached with the right frame of mind and proper preparation. Charlotte Gardner gathers advice for candidates from a handful of top agents and promoters on page 52.
In lutherie, on page 46 Gareth Ballard puts forward a theory about how the Cremonese masters created their archings and demonstrates his own method for emulating them, while on page 32 Gennady Filimonov examines an enigmatic ivory bow commissioned by Catherine the Great. And among our playing features, on page 38 Pedro de Alcantara writes about how properly prepared repetitive practice can yield valuable results, whatever level you play at, as well as sparking the musical imagination in often unexpected ways. And on page 70 Belcea Quartet violist Krzysztof Chorzelski gives the first of a two-part Masterclass examining that pinnacle of the string quartet repertoire, Beethoven's Grosse Fuge.
Emma Baker editor
Email me at thestrad@thestrad.com or tweet @TheStradMag