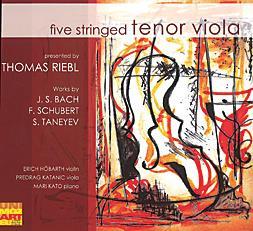 The Strad Issue: January 2012
Description: A largely successful experiment in recreating a niche instrument
Musicians: Thomas Riebl (tenor viola) Erich Höbarth (violin) Predrag Katanic (viola) Mari Kato (piano)
Composer: Schubert, Bach, Taneyev
Thomas Riebl, viola professor at the Universität Mozarteum Salzburg, loves Schubert's 'Arpeggione' Sonata so much that he has had an instrument built so that he can play it without any of the register changes unavoidable on a regular viola. Luthier Bernd Hiller added a low F string to the usual viola; by tuning it down to E, Riebl can reach the lowest note of the sonata. Since Schubert cannily used the short-lived instrument's full range, there is good reason for this experiment, which is largely successful. It is wonderful to hear the cadenza leading back to the first movement's recapitulation, or the one joining the last two movements, stretching over three octaves without clumsily going back and forth. There are no tonal compromises worth noting, and one is only occasionally aware of the enormous physical effort involved in playing this instrument. Riebl's performance is thoroughly enchanting, with a Viennese charm infusing the Rondo's episodes.
Bach's Sixth Suite – written, of course, for a five-stringed instrument – is equally successful, although some of Riebl's embellishments take some getting used to. Billing Taneyev's Trio as 'first recording in the original scoring' is not exactly correct, since the composer had in mind a four-stringed instrument tuned an octave lower than the violin. However, the part can be played as written on Hiller's tenor viola, which certainly doesn't sound like the cello usually substituted.
The excellent recording comes courtesy of the Mozarteum. The booklet includes a short comment by Hiller on the enterprise, but just one picture of its undisputed star, the five-stringed tenor viola.
Carlos María Solare