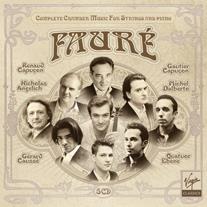 The Strad Issue: January 2011
Description: Fauré's complete string chamber music in benchmark performances
Musicians: Renaud Capuçon (violin) Gérard Caussé (viola) Gautier Capuçon, Raphaël Merlin (cello) Michel Dalberto, Nicholas Angelich (piano) Ébène Quartet
Composer: Fauré
The Capuçon brothers, separately and together, have the lion's share of this survey of Fauré's chamber music. They start with a disc apiece, each of two sonatas and a scattering of delightful, and delightfully played, character pieces. Renaud, the violinist, brings a terrific magisterial sweep to the slow movement of the First Violin Sonata, and the elfin antics of the third movement are full of vigour and wit, with pianist Michel Dalberto a sparkling collaborator. It is a shame, though, that while all the string players in this set are close and full, the piano sounds jangly and recessed. In the Second Sonata, now with pianist Nicholas Angelich, the playing is thoughtful and subdued. The first movement has astonishing lyrical control, and the second movement paints melancholy in many colours.
Cellist Gautier Capuçon brings robust playing, with an earthy tone and a way with big rhetorical gestures, to the two cello sonatas. In the first, with Dalberto, the skittish, gabbling phrases of the first movement are full of nervous energy, while the Andante develops an edge of desperation. Only in the finale does the tension ease, with some warm and gentle playing. In the Second Sonata Capuçon covers a wide emotional landscape with persuasive fluency. There is some magical sotto voce playing in the central movement, and terrific duo work with Angelich in the finale.
The brothers combine, with Angelich, for a rich and generous account of the Piano Trio. The first movement has an easy flow marked by deft rubato, and there is elegiac beauty to the second and muscular interplay in the finale. Violist Gérard Caussé joins them for the piano quartets. The first, with Dalberto, is generally light on its feet, and its slow movement has an air of devotional wonder. The opening of the second also has a lightness to it, a gentle caressing of Fauré's beauties that renders its torrid outbursts all the more striking. Angelich plays the nightmarish second movement with a crisp touch.
Once Fauré requires a second violin, the Ébène Quartet takes over. The players perform the String Quartet with delicacy and authority, negotiating the great paragraphs of migrant tonality and deferred cadences with sensitivity and subtle skill. Dalberto joins the quartet for a lush account of Fauré's First Piano Quintet, with powerful sound and ecstatic vibrato. With Angelich, the Ébène sets a sure and steady pace through the Second Quintet, maintaining clarity of texture through Fauré's sometimes busy writing and shaping his lines with fluid grace.
TIM HOMFRAY