Teacher Talk: your string teaching questions answered by our panel of experts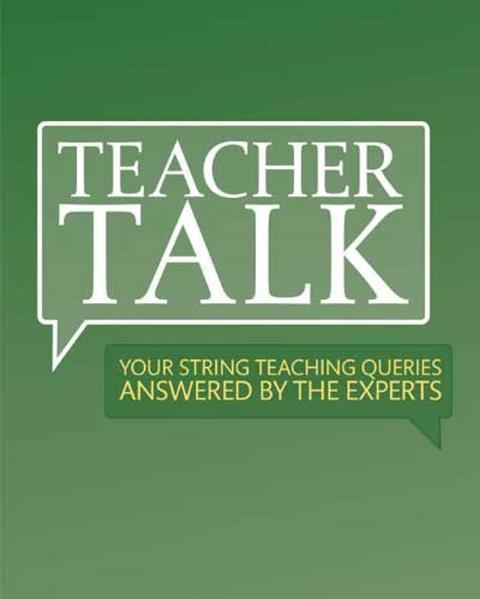 A student of mine is entering a national violin competition and is underprepared. Is it better to let him try and fail and learn a lesson, or should I get him to withdraw and save himself the humiliation and any damage to my reputation?
Janet Morris, London, UK
Boris Kuschnir: I think it would be better not to send him unprepared. Firstly, he might become very disappointed, and in the worst case, stop playing the violin forever. Secondly, it would not be good if the student plays badly in the competition, and everybody knows that he is your student. It would be better to send him to a smaller competition, with easier repertoire, where he might get a small prize. That would motivate him to prepare better in the future.
I have a student who is majoring on the violin and is very good at the viola but reads the clef by transposing down a 3rd, so his reading is very unreliable. Do you have any advice for helping violinists learn the viola clef?
Peter Tollin, New York, US
Bruno Giuranna: Inform the student that transposing down a 3rd simply means that they are using the soprano clef, adding one more sharp to the score. For instance, a piece with two sharps must be read with three, a piece with four flats must be read with one fewer and so on. Tell them that if the violin clef appears in the viola part that they are reading, it will also be necessary to transpose a 5th higher from that violin clef. Then ask them to study Rode Caprices no.11 to no.16. They will discover how much more practical it is just to learn the alto clef!
Is it important to play etudes and presentation pieces perfectly?
Carola Barnes, Alberta, Canada
Boris Kuschnir: Etudes should be learnt and performed as perfectly as possible. Most of the time, their main purpose is simply to focus on a clear technical task and not so much on the musical aspects. On the other hand, while also trying to reach a very high technical level, I like to focus on their musical aspects, praising individual characteristics of the student's playing and paying less attention to small technical mistakes.

Mimi Zweig: I like my students to play from the beginning of an etude to the end without stopping, with accurate rhythm, intonation and quality of tone. I present etudes in a sequence that allows for logical technical development. Each etude reinforces the previous one and adds a new element that needs to be mastered. The same applies to repertoire. If a student is trying to play the Tchaikovsky Concerto but does not have a good sense of musical structure, bow strokes, shifting or vibrato, this piece is most likely too difficult for them. It is important to sequence repertoire that allows for growth from one piece to the next.
THE EXPERTS
Boris Kuschnir is violin professor at the Vienna Conservatoire and at the University of Music in Graz
Bruno Giuranna teaches viola at the Fondazione Stauffer in Cremona, the Conservatorio della Svizzera Italiana in Lugano and the University of Limerick in Ireland
Mimi Zweig is professor of violin and viola and Director of Pre-College Strings at Jacobs School of Music, Indiana University at Bloomington
Our Teacher Talk series was first published in The Strad in January 2011. Subscribe to The Strad and get the best in teaching tips every month, from Simon Fischer's long-running Basics column to advice from top string players in Masterclass. Or click here to find out about our digital edition.