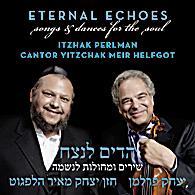 THE STRAD RECOMMENDS
The Strad Issue: January 2012
Description: The Israeli—American violinist explores his Jewish roots
Musicians: Itzhak Perlman (violin) Yitzchak Meir Helfgot (cantor) Hankus Netsky (piano/arranger) various instrumentalists
Composer: Trad
Itzhak Perlman has made klezmer recordings in the past. Here he has joined forces with the renowned cantor Yitzchak Meir Helfgot and his klezmer collaborator and arranger Hankus Netsky for a set of mostly sacred Jewish music, much of it lamenting and dramatic, interspersed with a couple of instrumental pieces. Perlman plays with the sweet-toned, vocal eloquence that has always been a feature of his musical style, with pliant lines, rhythmic freedom and a sense that the music is flowing directly from his imagination (one wonders how much of what he plays is fully scored).
Helfgot sings with an extraordinary intensity and power, a beseeching tenor crying out and filled with emotion, and always somehow with a higher note or two in reserve. The best-known sacred song, Kol nidrei, comes last, in a moving but essentially simple performance. Before it is Sheyibone Bays Hamikdosh, a ten-minute mini-drama with virtuosic singing and the violinist in increasingly free and ecstatic partnership.
Many of the tracks have the feel of dramatic narratives, often in several segments. Some have the slow–fast bipartite structure familiar from gypsy music, to which some are very close in style. Perlman has a couple of numbers to himself, one of them a terrific medium-paced dance with klezmer band and a clarinet as sideman. It's gripping stuff, vividly recorded.
TIM HOMFRAY