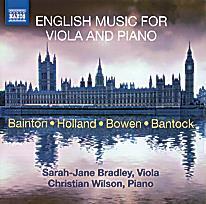 The Strad Issue: January 2012
Description: A highly welcome exploration of little-known English viola repertoire
Musicians: Sarah-Jane Bradley (viola) Christian Wilson (piano)
Composer: Bainton, Holland, Bowen, Bantock
This latest instalment in Naxos's review of English viola music is particularly succulent, including as it does Granville Bantock's monumental 'Colleen' Sonata. Christian Wilson's illuminating booklet notes usefully clarify the piece's name (not a dedication, as one sometimes reads) and are an altogether reliable guide. While I personally doubt that the first movement's main theme is a deliberate quotation from Der Rosenkavalier, Bantock's music does sound luxuriantly Straussian, just as the finale jigs along in the most foot-tapping way until he brings all his themes together for the triumphant conclusion. Sarah-Jane Bradley plays with great passion, finding just the right touch of roughness for the bits of stylised Irish fiddling, while also soaring freely above Wilson's busy piano effusions.
There could hardly be a greater contrast than that between Bantock's 34-minute work and York Bowen's late, intimate Piece for viola, a two-minute jewel (still unpublished) that has somehow been overlooked by previous Bowen collections. Also unpublished is Edgar Bainton's dramatic Sonata, which – as Michael Jones argues in his note – draws on the composer's experiences as a prisoner of war. This quartet of viola works is completed by Theodore Holland's exhilarating Suite in D major. Bradley performs all these pieces with quiet authority and a beautiful, finely chiselled dark sound. She has also been very well recorded by violist–producer Michael Ponder.



Carlos María Solare