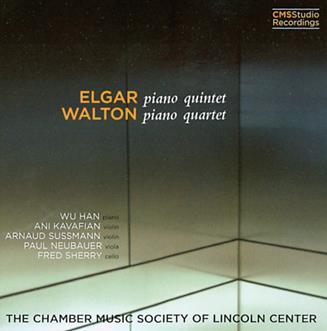 The Strad Issue: January 2008
Musicians: Chamber Music Society of Lincoln Center
Composer: Elgar, Walton
It is all too easy to fall deeply in love with the Elgar Piano Quintet, and this is certainly the case with the chamber group based at New York's Lincoln Center. As so often happens with this work, such affection only leads to an episodic approach, as musicians savour the moment with rubato copiously applied.
The performance abounds in yearning nostalgia, with wistful intimacy the key to so much of the players' first movement. Compare this with Peter Donohoe and the Maggini Quartet (Naxos), where the opening movement flows with a natural exuberance. Donohoe launches into the big melodic moments with outgoing relish, yet smoothly moves into the quieter sections that surround it. The Americans do not find that flow, but certainly play every dynamic with infinite detail, and the beauty of sound they produce is undeniably attractive. The balance is rather less in favour of the piano than in the Naxos release.
The Walton Piano Quartet, a score composed in his 16th year, owes something to Elgar, but is also a very different score. Here the performers are more successful in bringing together the changing moods, and find the right degree of fantasy in the Scherzo. They equally observe the appropriate level of tenderness in the slow movement, and, as in the Elgar, the string intonation is impeccable, the tonal quality a delight to the ear.
The aim of this new label is 'to create optimal recording conditions', and certainly the internal clarity is admirable, but I feel that the piano is acoustically detached from the strings.
DAVID DENTON