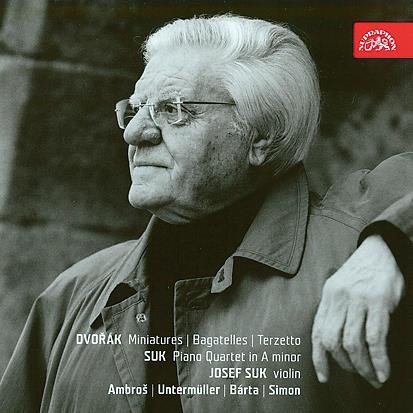 THE STRAD RECOMMENDS
The Strad Issue: January 2009
Musicians: Josef Suk, Miroslav Ambroš (violin) Karel Untermüller (viola) Ji?í Bárta (cello) Jan Simon (harmonium/piano)
Composer: Dvorák, Suk
The expected flood of reissues for Josef Suk's 80th-birthday year has already begun – the riches include the nonpareil 1958 'Dumky' Trio (Eloquence) – but here, amazingly, is a brand-new disc recorded last autumn.
Let it be said straight away that the Czech master is on superb form, obviously thriving in his semi-retirement. He has recorded this material before, the three Dvo?ák works in 1997 (Lotos), with Ji?í Bárta among his colleagues, and the Suk in 1992 (Supraphon) with wholly different artists. Differences are minimal, so anyone with those versions can rest easy.
Newcomers and Suk completists, however, should make a beeline for this new disc, which has the great man acting as primus inter pares and guide to artists as much as 58 years younger. All four works demand glowing tone, lyrical phrasing and understated charm, and these musicians meet every requirement. Jan Simon handles harmonium and piano equally well.
The Miniatures were written to replace the Terzetto – too difficult for one of the original players – and were quickly adapted into the Four Romantic Pieces, which Suk has also recorded more than once. He knows the music of his great-grandfather Dvo?ák inside out.
The Quartet by his grandfather Josef Suk is fully worthy to be that underrated composer's op.1: all three movements are beautifully written – Suk was a pianist as well as a famous violinist – and are so affectionately played that you wonder if they could be done any other way. The recordings are close but not claustrophobically so.



TULLY POTTER