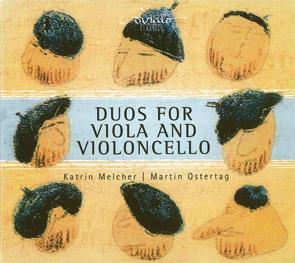 The Strad Issue: January 2012
Description: A brave survey of music for a rare instrumental combination
Musicians: Katrin Melcher (viola) MartinuOstertag (cello)
Composer: Rolla, Lutoslawski, Kirchner, Milone, Clarke, Hindemith & Beethoven
The rich timbral combination of viola and cello sadly boasts pretty limited repertoire and inevitably the quality of compositions becomes a pertinent issue. Perhaps not surprisingly, Lutoslawski's Bucolics, performed here with compelling virtuosity, towers above the other items, with its Bartókian fusion of folk music from the Kurpie region integrating convincingly with his own motivically generated style. Alas the Beethoven Duet in E flat major WoO32 is third-drawer if that and even this lively and brilliantly executed rendition fails to rescue it from being rather tedious. Similarly, the duets penned by Paganini's teacher Alessandro Rolla prove dull and routine, despite these carefully rehearsed and polished performances.
Volker David Kirchner's Three Micromelodies were written specifically for this duo and as such are not currently published. His gritty tonality and imaginative melodic invention certainly make a substantial contribution to the repertoire, as does Hindemith's well-crafted Duet. Rebecca Clarke – a violist herself – also weighs in with a traditionally cast two-movement work that is persuasively interpreted in this clear recording. Although they tread similar territory to Lutoslawski, I can't help thinking that some of Bartók's Violin Duos arranged for viola and cello might have been a welcome addition simply because the music is a cut above much on this disc.



Joanne Talbot