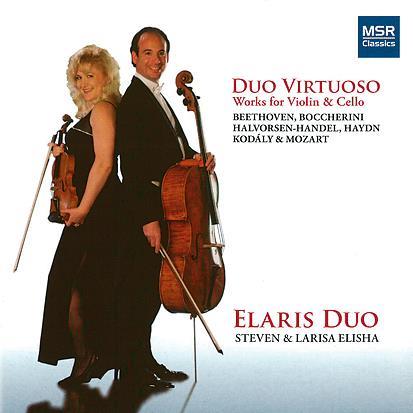 The Strad Issue: January 2009
Musicians: Elaris Duo
Composer: Mozart, Boccherini, Haydn (attrib.), Beethoven, Halvorsen, Kodály
In the 18th and early 19th centuries music for instrumental duos grew in popularity, much of it composed because a keyboard remained the domain of the wealthy. To maximise the sale of sheet music it was often tailored to be well within the scope of talented amateurs and frequently included a choice as to the instruments used. Violin and cello was one of the preferred combinations, and the present disc seeks to chart the development of this repertoire from the time of Haydn and Boccherini through to the 20th century.
The progression only works to a very limited degree as there is a massive stylistic leap from Beethoven's charming little Duo in C major, originally scored for clarinet and bassoon, to Kodály's technically demanding masterpiece.
The husband and wife duo of Larisa and Steven Elisha give a neat and uncomplicated account of Mozart's Duo K423, one of two written in 1783, together with excerpts from duos written by Boccherini and (possibly) Haydn, and I much enjoy their sprightly and joyful Rondo finale of the Beethoven.
I am less happy with their articulation in a hard-driven performance of Halvorsen's Passacaglia on a theme of Handel (from 1894), where fast running passages are too breathless for comfort. Both here and in the Kodály they defer to Nigel Kennedy and Lynn Harrell, who find more subtle colours in a somewhat similar survey of duos on EMI. The MSR recording presents a most realistic balance in a concert hall perspective.
DAVID DENTON