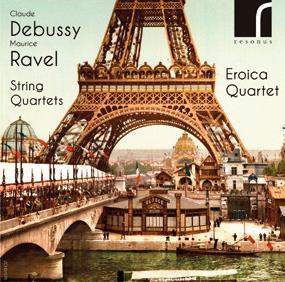 The Strad Issue: January 2012
Description: Refreshingly rethought interpretations of a classic quartet coupling
Musicians: Eroica Quartet
Composer: Debussy, Ravel
Modern attitudes as to how these wonderful pieces should sound have been conditioned by the enhanced smoothness and sweetness of metal-wound strings, a vibrato-at-all-costs approach to creating a seamless cantabile and turbo-powered opportunities for ensembles to flourish their virtuoso credentials. If modern string playing has arguably placed too much emphasis on the left hand as the main purveyor of tone colour, the Eroica Quartet players return us to a 'golden era', the one for which Ravel and Debussy were composing, which placed equal emphasis on the bow as an expressive device, complemented by gut strings and vibrato shadings of exquisite subtlety.
The changes in sonority are felt most acutely in the second movement of the Ravel, in which the pizzicatos possess a seductively woody richness (as opposed to the high-tensile, ping-pong effect of modern strings) and the dreamy central section a haunting, autumnal reflectiveness. Refreshingly, the players avoid 'first-past-the-post' adrenal surges at the slightest provocation of 'vif' (often misinterpreted as 'vite'). If the Ravel sounds more alluringly relaxed than usual, the Debussy Quartet emerges as much darker and decidedly unsettling in places. These thought-provoking, deeply satisfying performances are available in a variety of online formats, ranging from mp3 (which shows no audible signs of compression) to glorious 24-bit/96kHz studio-quality masters.



JULIAN HAYLOCK