More than 20 per cent of Germany's orchestras have disappeared since 1992. Gerald Mertens examines the reasons why, and asks what can be done to halt the trend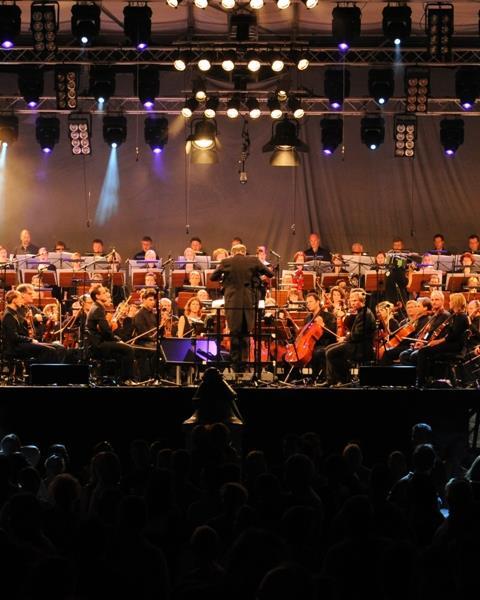 It's hard to understand, even for insiders: in 2016 the South West German Radio (SWR) will merge the Stuttgart Radio Symphony Orchestra with the SWR Baden-Baden and Freiburg Symphony Orchestra (BBFSO, pictured). The new orchestra will be based in Stuttgart. Internal planning and preparations began in 2011. In February 2012, SWR management made the plans public: 80 posts will be lost in the next few years.
Peter Boudgoust, SWR's chief executive, has promised that no musician will be dismissed. There will be special offers of golden handshakes for older musicians. The BBFSO is the most prestigious symphonic ensemble for contemporary music in Germany. Founded in 1946, it has premiered some 400 new works. Music written by Hans Werner Henze, Karlheinz Stockhausen, Olivier Messiaen, Helmut Lachenmann and Wolfgang Rihm is a part of the orchestra's living history.
There have been massive protests from local audiences and friends of the orchestra; an alternative scheme put forward for setting up a private foundation to run the ensemble; and open letters against the merger from 148 composers and some 160 conductors. None of these were able to dissuade the SWR from the merger. The SWR management has cited shrinking budgets as the main reason for its decision: one of the main arguments is that it's better to have one wellfunded orchestra in Stuttgart than two orchestras with ongoing budget cuts.
Musicians and BBFSO supporters are particularly furious that the licence fee system for German public radio changed in January 2013, from an individual user fee to a common household fee. Experts estimate that the change will result in an additional €1.15bn surplus from 2013 to 2016. From this perspective, it would be a simple matter to stop the orchestra merger. However, politicians are instead proposing that the surplus should be used to reduce the monthly household fee. I believe that musicians, audiences and friends of the orchestras have to stand up for the upkeep of the arts and public arts funding. They must show their commitment and support for the arts with more power and creative action, and better communication.
The last few months have been rather tough for many of Germany's 131 publicly funded orchestras. On the morning of 30 September, members of around a hundred German orchestras took to the streets for a day of national protest and warning strikes. Some rehearsals had to be cancelled. Members of orchestras large and small presented two messages to the public. First, as in the past, musicians' salary increases should remain linked to those of other public servants. Second, Germany's unique 'orchestral landscape' must be kept alive for the future.
Since the early 1950s, orchestral musicians' salaries have been linked to those of other public servants, because most orchestras are run by local councils. However, in the past few years there have been several attempts by those councils to contest every single pay rise, which prompted the musicians' union to launch a suit at the Federal Labour Court to preserve the link. In September 2013 the union lost the case, and the musicians voted for warning strikes.
Last December, a new collective bargaining agreement for around a hundred orchestras was signed. This meant that, after more than three years without any development, many musicians received a pay rise of between eight and nine per cent. In future, there will be annual talks on the salary issue between union members and employers.
As for Germany's orchestral landscape, this has changed dramatically since the 1990s. In 1992 the first ever national survey of all Germany's orchestras identified a total of 168 publicly financed concert, opera, chamber and radio orchestras. Since then, 37 ensembles have been dissolved or merged with others. The protest on 30 September increased public awareness of this issue, and it was the starting point for a new national campaign called Orchesterland-D: Einzigartig. Erhaltenswert (Orchestraland Germany: unique and worth preserving.) With this campaign, the German Music Council hopes that German orchestras and the German orchestral sound will finally be recognised as 'intangible cultural heritage' by Unesco.
Gerald Mertens is editor of the magazine Das Orchester and head of the German Orchestra Union