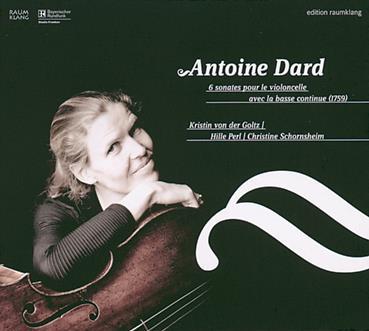 The Strad Issue: January 2008
Musicians: Kristin von der Goltz (cello) Hille Perl (viola da gamba) Christine Schornsheim (harpsichord)
Composer: Dard
Antoine Dard (1715–84) served as oboist and bassoonist at the French royal court from 1773 [Robin: I assume you mean 1773 – you gave 1673. Please confirm]. It is therefore no surprise that these six sonatas for bassoon or cello and basso continuo were conceived more in terms of the wind than the stringed instrument.
Dard's highly personal approach combines the expressive, the courtly and the unpredictable with flowing written-out embellished passages of finely etched detail. His predominantly lyrical style exploits the upper registers of the instrument to an extent unusual for the period, and his prefatory note stresses the importance of performing his sonatas with 'lightness and feeling'. Kristin von der Goltz, a pupil of William Pleeth, does just that, demonstrating also her technical assurance, musical intelligence and strong sense of line.
This is responsive and spirited music making, pregnant with expressive detail. Highlights for me include Goltz's neat, yet extensive ornamentation in the first movements of sonatas nos.1, 5 and 6; her responses to the challenging passagework in the lively central Allegro of no.1 and the Allegro ma non troppo of no.3; her emotionally charged Adagio of no.3; her pleasant mix of lyricism and articulated commentary in the Ciciliano andante of no.4; and her jauntiness in the finales of nos.2 and 5.
Goltz has an excellent rapport with her partners. However, their collective efforts are smothered in a soupy, reverberant acoustic to which harpsichordist Christine Schornsheim adds rather too much thickening. Regrettably, the detail of Goltz's warm, mellifluous cello sound is occasionally obscured, particularly towards the bottom of its range.
ROBIN STOWELL