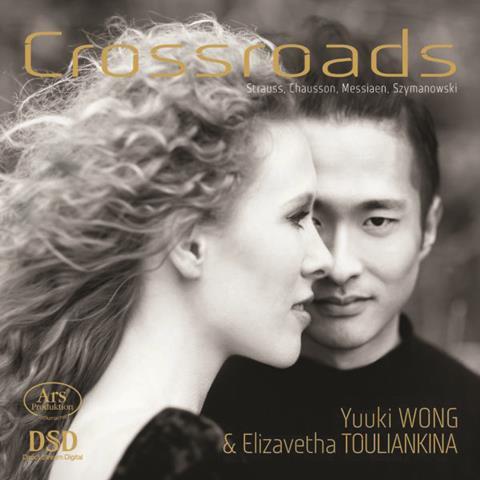 The Strad Issue: November 2016
Description: A conjunction of late-Romantic works for violin and piano
Musicians: Yuuki Wong (violin), Elizavetha Touliankina (piano)
Composer: Cichard Strauss, Szymanowski, Chausson, Messiaen
Catalogue number: ARS PRODUKTION 38 215 (SACD)
There might be some confusion between the title and subtitle of this disc, which can't agree on whether we have a 'crossroads' or a 'journey', but there's a very nice programme here, tracing the transition between Romanticism and modernism and how it was reflected in the violin and piano repertoire.
Yuuki Wong and Elizavetha Touliankina are skilful guides, recorded in clear sound. There are a lot of notes, especially for the impressive Touliankina, which they have well under their fingers. Wong's technical prowess is beyond doubt, too, and there's something refreshing about his tone, which is honest, straightforward and vibrato-light. I even wondered if it represented a nod to early 20th-century playing styles; the booklet doesn't tell us.
It's refreshing in its way, but to my ears it also makes for a lack of tonal variety, especially in the opening Strauss, where there's some formidable big-name competition on disc, and the Chausson. Where are the sweetness in the quieter passages, the soaring upper register, the rhetorical grandeur? But this worried me less in Messiaen's more ascetic Thème et variations of 1932; and Wong's tone arguably adds extra mystery to Szymanowski's sultry Hispanic Nocturne, even if there's a slight lack of fire when he gets on to the Tarantella.
Hugo Shirley