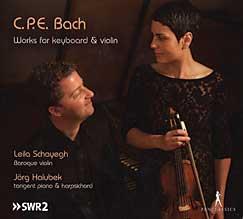 The Strad Issue: January 2014
Description: An admirable tercentenary tribute from a Swiss Baroque-violin specialist
Musicians: Leila Schayegh (Baroque violin) Jörg Halubek (harpsichord/tangent piano)
Composer: C.P.E. Bach
This disc features compositions spanning almost 60 years, from the Sonata Wq.71 (1731/rev.1746) through the two galant Sonatas Wq.76 and 78 of the 1760s to the Fantasie Wq.80 of 1787. It therefore encapsulates the development of Bach's sometimes bewildering, expressive style. These performers' use of Brahms's continuo realisation for their accounts of Wq.76 and 78 and a reproduction c.1780 tangent piano for Wq.78 and 80 offer additional interest.
Leila Schayegh and Jörg Halubek admirably capture the mixture of Baroque and galant styles that constitute the early four-movement Sonata Wq.71, realising its trio sonata texture with intelligence. They are fully responsive to the diverse characters of the two galant sonatas, demonstrating excellent rapport, interpretative unanimity and expressive subtlety in their dialogue, particularly in the opening movements, in which they play both contrasting and complementary roles.
Halubek is the dominant partner in the Arioso Wq.79 and Fantasie Wq.80, both works having been developed from original keyboard compositions. Nevertheless, Schayegh is pro-active in exploring the detail of Bach's mature dramatic and rhetorical aesthetic, particularly in the variations of Wq.79, even if she resorts to some unstylish portamentos. Balance is well judged throughout and the studio recording has a pleasing resonance.



ROBIN STOWELL