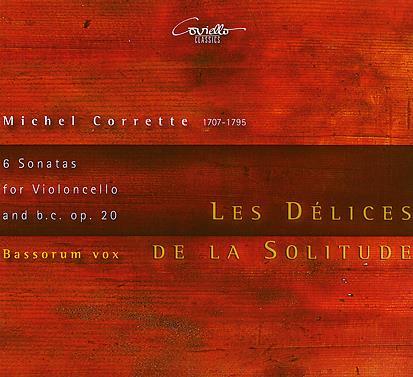 The Strad Issue: January 2010
Musicians: Bassorum vox
Composer: Corrette
Michel Corrette's Les délices de la solitude (1738–9) is one of the first French cello sonata collections. Its six works combine French and Italian style elements and offer South Korean Baroque cellist Seung-Yeon Lee ample opportunity to display his virtuosity, especially in the final movements of nos.2 and 6. Lee also shapes Corrette's long melodic lines sensitively, notably in the Sarabandas of nos.3 and 5 and the graceful Aria of no.6, and he couples the first two movements of no.3 with a well-considered 'lead-in'.
Lee and his colleagues revel in the battle effects at the opening of no.6 and the introduction to the Allemanda of no.5, and they skilfully vary the colours of the accompanimental instrumentarium. Fernando Reyes Ferrón's theorbo contribution is especially effective in the central movement of no.2 and the Sarabanda of no.3, as is also his Baroque guitar accompaniment for the Sarabanda of no.5. Continuo cellist Se-Hee Kim occasionally comes to the fore, duetting neatly with Lee in the Aria of no.1, no.5's Preludio and in the 'hunting' finale of no.4. However, Ferrón's guitar flourish at the opening of no.6 seems stylistically inappropriate. The close church recording admits some roughness of attack and could be better balanced in places.



ROBIN STOWELL