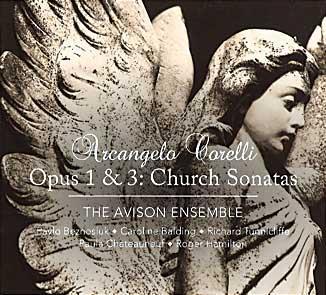 The Strad Issue: January 2012
Description: Polished solo playing in Corelli's set of twelve string concertos
Musicians: Avison Ensemble/Pavlo Beznosiuk (director/violin)
Composer: Corelli
This first album in the Avison Ensemble's project commemorating the 300th anniversary of Corelli's death offers well-considered period-instrument accounts that are stylish, imaginative and technically assured. Tempos are well measured and there is remarkable precision of ensemble throughout. Ripieno parts are alertly and crisply articulated and the sensitively phrased, lucidly balanced textures are infused with a wide range of dynamics and instrumental colour, revealing many fine interior details. Much is made, for example, of the expressive dissonances in the Graves of nos.3 and 8, and the antiphonal concertino–ripieno writing in the first Allegro of no.2. The sheer energy of the first Allegros in nos.4–7 is exhilarating and the increased incidence of dance in concertos 9–12 is made abundantly evident.
Pavlo Beznosiuk has a sensitive concertino violin partner in Caroline Balding and they duet with taste, expression and refinement. Solo violin passagework is executed with poise, polish and precision, especially in the Allegro of no.12, and extempore embellishment is supplied in tasteful doses, notably during reprises, at Phrygian cadences or as a link between two contrasting movement sections. Cellist Richard Tunnicliffe provides sensitive support and demonstrates his own virtuosity in the first Allegro of no.1 and the Allemanda of no.11. Roger Hamilton contributes some appropriate harmonic filler on harpsichord or organ, notably in the Adagio of no.10 and archlutenist Paula Chateauneuf chips in with some delightful accompaniment in the Pastorale of no.8 and the Adagios of nos.9 and 11. The recording is full-bodied and clear, yet rich in bloom.



ROBIN STOWELL