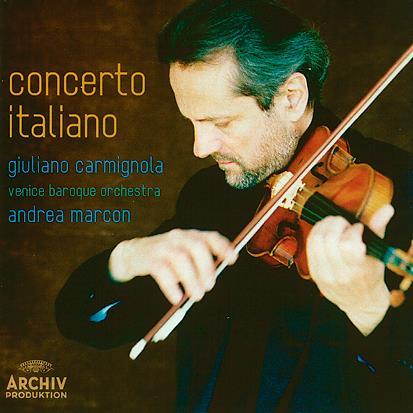 The Strad Issue: January 2010
Musicians: Giuliano Carmignola (violin) Venice Baroque Orchestra/Andrea Marcon
Composer: Dall'Oglio, Stratico, Nardini, Lolli
Here we have four Italian composers from the middle of the 18th century whose names have long dropped from the repertoire, but who, in their lifetime, thrilled audiences throughout Europe with prodigious displays of performing virtuosity.
The discovery of three concertos in the music library of the University of California led Giuliano Carmignola to explore some of the most important examples from the period, with those chosen for the disc taking inspiration from Vivaldi. Domenico Dall'Oglio's concerto, from around 1745, sets the scene: Carmignola excites the senses with his nimble fingers as they decorate the music with tight trills and arabesques. I am less enamoured of his tendency to snatch at phrases, a feature that is becoming fashionable among Baroque specialists. This is offset by the elegance of his central movements, with the gorgeous Grave of Michele Stratico's Concerto being particularly attractive.
Only the Antonio Lolli concerto has been previously recorded, and this perfectly shaped score is well worth preserving. I equally commend the profoundly happy work from Pietro Nardini with its rhythmically bouncy finale.
Carmignola makes light of technical challenges, and his immaculate articulation and spotless intonation are enhanced by the silvery tone from his 1732 'Baillot' Stradivari. He receives attentive accompaniment in nicely balanced sound.
DAVID DENTON