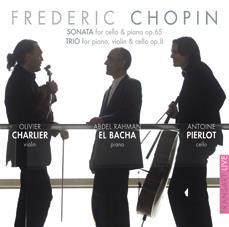 The Strad Issue: January 2012
Description: Playing that brings out Chopin's French-inspired style
Musicians: Olivier Charlier (violin) Antoine Pierlot (cello) Abdel Rahman El Bacha (piano)
Composer: Chopin
This disc brings together three important talents steeped in the French tradition: Olivier Charlier, a professor at the Paris Conservatoire, Antoine Pierlot, a nominee of the 2009 Victoires de la Musique, and Beirut-born Abdel Rahman El Bacha, a former student of Marguerite Long. While Charlier at least claims a connection to the 'French' school of string playing, such links are usually to be approached with caution in an age when players employ basically similar aesthetic standpoints. Nonetheless, there is a certain ease of the left hand, an elegance and arguably a degree of tonal lightness that correspond with latter-day assumptions of what playing of that kind might sound like. This is by no means to the detriment of this disc.
Chopin's well-known Cello Sonata is beautifully voiced, even if there are times when the piano over-dominates the texture, as in the first movement, which is also burdened by a rather pedantically strict observance of dotted rhythms. The Piano Trio has an earthier directness, while the slow movement is well-paced and the finale suitably exciting, the whole disc belying its concert circumstances and yet exuding a communicative energy that can only be created in live performance. Transart Live provides an admirably well-balanced recording.



David Milsom