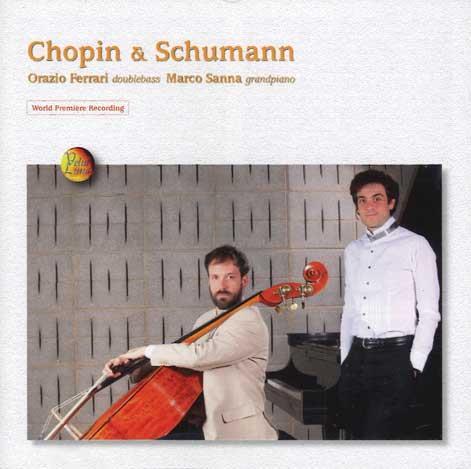 The Strad Issue: December 2014
Description: A double bassist appropriates music for cello and for voice with success
Musicians: Orazio Ferrari (double bass) Marco Sanna (piano)
Composer: Chopin, Schumann
It shouldn't still come as a surprise when a double bassist plays almost as flexibly as a cellist, but this is a pleasant feature of Orazio Ferrari's first CD. He clearly has a passion for Chopin, instinctively tapping into the Cello Sonata's Romantic vein and employing a natural rubato. There's just a hint in the second-movement scherzo of the occasional smudgy shift (and some percussive noise on the fingerboard too), but not enough to dull the performance. Even in the middle and lower ranges, Ferrari never produces a fat or unwieldy sound. And there's a delicious gift in the slow movement where the soloist's accompanying bass-line to the piano's tune sounds beneath both the pianist's right and left hands.
Schumann's Adagio and Allegro is another cello-and-piano work that Ferrari has appropriated: there's a certain radiance in the Adagio, but again the odd minor slip in the Allegro.
Purists may think Chopin's Etude in E flat minor op.10 no.6 defies successful transcription, the melody in its original solo-piano form being so entwined with its narrowly circling chromatic accompaniment, but it receives an easy-going rendition. Schumann's 'Träumerei' from Scenes from Childhood doesn't suffer the same problem of transcription.
Chopin's song Wiosna ('Spring') and – perhaps oddly to close, given its own enigmatic ending – 'Im wunderschönen Monat Mai' from Schumann's Dichterliebe are the 'bonus tracks'. The sound quality is adequate if a little boxy.
Edward Bhesania