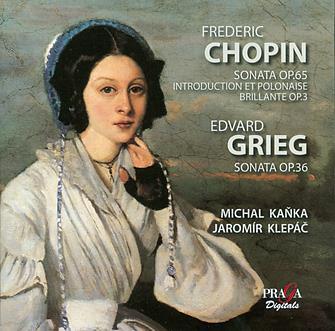 The Strad Issue: January 2007
Musicians: Michal Kanka (cello) Jaromír Klepác (piano)
Composer: Chopin, Grieg
From Beethoven onwards the piano has held a pivotal role in shaping the performance in the cello sonata, and neither the Grieg nor the Chopin sonatas are exceptions. In consequence the piano very much drives these performances. Both artists in this warm and excellently balanced recording are scrupulous in following the letter of the score, and obey each cited tempo instruction. Michal Kanka's playing is mellow and full-bodied – a tone ideally suited to this Romantic and lyrically hued music. The Chopin has plenty of Sturm und Drang, particularly in the first movement, yet also moments of delicacy in the Largo, and this duo certainly conveys the melodrama in the Grieg.
Were it the only recording of these works on the planet you'd be quite happy. Yet, particularly in the Grieg, Jaromír Klepác could draw far more colour from the piano part. Some of this might be effected by generating a wider dynamic range, and a greater sense of spontaneity connected to the underlying folk idiom. I'm also certain that a more sharply characterised piano part would have inspired greater vividness from Kanka, particularly in the last movement, which is framed by a rather banal musical figure that needs maximum shaping to come to life.
However this is exactly what Jean-Yves Thibaudet and Truls Mørk do on their Virgin release. Equally, Martha Argerich's mercurial inventiveness maintains the searing brilliance of the Rostropovich Chopin Sonata recording on DG as one of legendary quality. Having said that, this Praga disc presents a good combination of sonatas for anyone wishing to explore both these works.
Joanne Talbot