With appearances from Mischa Maisky, Gary Hoffman, Jean-Guihen Queyras, Anner Bylsma and 2Cellos, this year's event was not to be missed, writes Heather Kurzbauer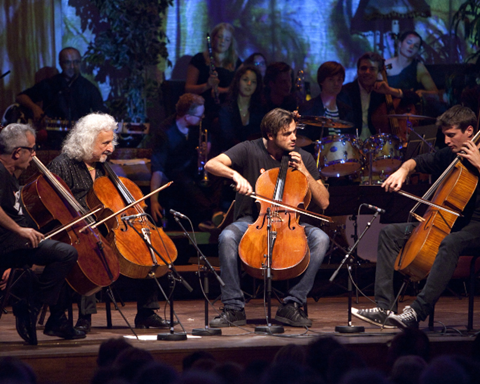 A sunray burst through the fog as the last cluster of musical enthusiasts turned their backs on Amsterdam's Music Hall of the 21st Century, bidding a reluctant farewell to nine days of 'cellomania'. Hugs, high-fives and multilingual chants to the tune of 'cello rocks' mingled with the promise of 'see you in 2016' as the fifth edition of Cello Biennale Amsterdam came to an end. By mid-morning, a crescendo of cello-talk topics flooded local airwaves and went viral on Twitter, blogs and YouTube.
While gloom and doomsters would like us to believe that classical music is declining in popularity, the most recent Biennale suffered no setbacks in turnout or programme variety. The cello event boasted a staggering 77 concerts, musical events and masterclasses with a record number of 26,710 visitors in attendance.
Much of the credit for the Biennale's fresh takes on community engagement and all-inclusive programming rests at the feet of its mastermind and artistic director, the unpresuming Maarten Mostert. A cellist whose professional employment includes performing with Amsterdam Sinfonietta and teaching at Amsterdam's respected conservatory, Mostert was more likely to be found squeezing orange juice for the 'Bach & Breakfast' early birds than hobnobbing with well-heeled patrons. His quest for finding intersecting paths between innovation and tradition led him to Trieste to experience a 2Cellos concert. Convinced by the dynamic duo's technical prowess and raw energy, and armed with a Biennale programme book and Holland's sticky stroopwafels, Mostert made his move. The hit parade cellists were engaged for a midnight gala concert and a cello masterclass.
Months before the Biennale's festive opening, youngsters cross-country were treated to 'Hello Cello' activities and film buffs viewed cello-related features and documentaries at Amsterdam's hip Eye centre. 'Cello & Voice', the 2014 Biennale's guiding light, aimed to bridge the gap between vocal and instrumental performance. Occasionally in practice, the tried and true paled in comparison to the previously unsung. Villa-Lobos' Bachianas Brasileiras suffered from vocal volume overkill while the Korean composer Seung-Ah Oh's Aphonic Dialogue presented actress-singer Salome Kammer with the opportunity to take Sprechstimme to new heights.
Another part of the master plan called for mixing the old and the new not only in terms of artists but repertoire. Students from Beijing to Boston were given the opportunity to perform in masterclasses and afternoon 'fringe' concerts. The spirit of mix and match led to remarkable results when established artists performed side-by-side with gifted newcomers.
An astounding number of activities dovetailed with cello-related exhibits in an expansive and welcoming space. If a Q&A session with cello makers, a Bonham's appraisal for instruments and bows, or a browse through vintage recordings was not enough to tantalise the neophyte, there was always more in store.
A mere listing of musical highpoints exceeds the most generous of word counts. Thus, a few clips will have to suffice to convince the reader to plan ahead for 2016. The poetic Gary Hoffman reached for the heavens in an unforgettably nuanced rendition of Bloch's Prayer. Freed from any sense of restraint and blissfully oblivious of an overly challenged student orchestra, Mischa Maisky created a flesh-and-blood Don Quixote who took leave of the earth with a shudder and a tear. Wolfgang Emmanuel Schmidt whooped with joy while playing on a two-week-old cello made by the Berlin-based Dutch luthier, Thilde van Norel. Last but certainly not least, the one-man cello extrovert Giovanni Sollima could not contain his multifarious gift for breaking down boundaries. His showcase concert with the deliciously flexible Holland Baroque Society and its superb solo cellist Steuart Pincombe took the audience on a repertoire romp from pre-Bach to post-Blues. For Sollima and the Biennale, 'music is everything from evolution to revolution'.
Welcoming the morning masterclass crowd with unabashed repetitions of the claim, 'I am not a teacher', Mischa Maisky wove a dizzying array of stories into the fabric of his lessons. While searching for a modus operandi – 'there are so many expectations of miracles, of learning secrets at a masterclass, it makes me fear them' – he delivered nuggets of wisdom from Piatigorsky and Rostropovich wrapped in a series of amusing anecdotes. Admonishing the rapt audience and somewhat bewildered student performers to 'beware of those who say they know the truth', Maisky delivered an impassioned speech on the meaning of authenticity: 'Your performance is as authentic as your score reading. Study and live the score, then go out and play'. Creating an image of Bach, the man, as opposed to Bach, the myth, Maisky gestured emphatically as he declaimed, 'Bach loved beer, and Bach had a bad temper, never forget this when you play. The great Klemperer used to say, can you imagine Bach without vibrato? He had 20 children, impossible, absolutely impossible without vibrato.' To Maisky, performance is all about expressing emotion and Bach is the ultimate romantic. 'Do you think if Bach were alive today he would be pleased with a vegetarian approach to his music? If he had the choice of a small Baroque band or the New York Philharmonic, do we actually know which group he would choose?'
Continuing along the lines of Maisky's musings on musical barriers, Jean-Guihen Queyras encouraged his masterclass students to 'reach out and touch the enigmatic in the score'. The musical needs of the moment might well call for improvisation: 'Play ahead or behind the beat, push or pull the bar lines and experiment with the moment of the music'. To strive for authenticity and to create an artistic space with room for personal interpretation was the Queyras challenge.
Biennale birthday boy, the ever-energetic octogenarian Anner Bylsma, was showcased as thinker, performer and innovator. Bylsma applied his prodigious wit and intellect to what he calls his peculiar obsessions: life in general and Bach in particular. Like the dearly departed, fellow-musical iconoclast Frans Bruggen, Bylsma often expresses his wisdom through puzzles and cryptic messages. His written contribution to Cello Biennale 2014, printed on a single sheet, bore the title, 'The self-thinking plumber'. With a wink and a nod to America's 'Joe' on the street, Bylsma intoned a clarion call for all musicians far and wide. Construction in the gospel according to Bylsma is predicated by deconstruction: a rigorous application of the art of rhetoric. 'Bach's music is spoken music, strong and based on enunciation. The modern "value-free† Solfège, successor to what used to be called Rhetoric, is a musical disaster.' Why? 'It takes the articulation out of the music and creates equality between notes and phrases. All notes are not created equal!'
The go-to pedagogue at Germany's prestigious Kronberg Academy, Frans Helmerson shared Bylsma's view on declamatory performance: 'No phrase should ever be played the same way twice, ever.' Practising what he preached, Helmerson unveiled transparent layers of sound and articulation in Tristan Keuris' Double Concerto, performed at one of the closing concerts.
Amsterdam's Biennale is a labour of love infused with great quantities of passion, dedication and more than a modicum of high jinx. Clad in waiter's garb for the closing Grand Café Cello Coupé, Maarten Mostert joined his fellow cello-mates in a last hurrah of spontaneity and sheer musical pleasure. Farewell highlights of the Biennale's revelry were delivered with panache: young talent served up Boccherini, Johannes Moser broke speeding records in his 'in the moment' rendition of Britten's Moto Perpetuo and the unstoppable creative wizard Giovanni Sollima joined Mischa Maisky and 2Cellos for an ear-splitting rendition of AC/DC's Thunderstruck replete with audienc