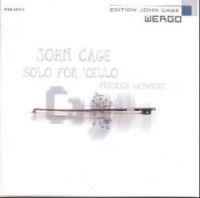 The Strad Issue: January 2010
Musicians: Friedrich Gauwerky (cello)
Composer: Cage
The German cellist and new music specialist Friedrich Gauwerky succeeds here in bringing coherence and structure to two of the most challenging works of 20th-century cello literature, John Cage's Etudes boreales (1978) and 26'1.1499" (1953–5) (of which he plays a shortened version, called 10'43.3" after its duration).
Despite the two works' huge technical difficulties, which Gauwerky overcomes with aplomb, the challenges are not purely of execution. The two pieces are both chance-based – Etudes boreales drawing on star maps of the northern sky, and 26'1.1499" using imperfections in the paper it was written on – and so run the risk of sounding like a random sequence of unrelated pitches, effects and noises from the cello's wooden body. It's hugely impressive that Gauwerky brings a truly musical coherence to the works, imposing a sense of order on the bewildering range of sounds and a sense of forward movement that grips the listener from start to finish. There's a lightness of touch to his playing in 10'43.3" that brings what could almost be called a sense of fun to the piece, and his pinpoint intonation amid multi-octave jumps in the Etudes boreales is breathtaking. Four short Harmonies from Cage's Apartment House 1776 (1976) fragmenting folk songs from 18th-century America provide some light relief from the longer works.
Recorded sound is close, clear and detailed, although the cellist's breathing picked up during 10'43.3" can be a little distracting.


David Kettle