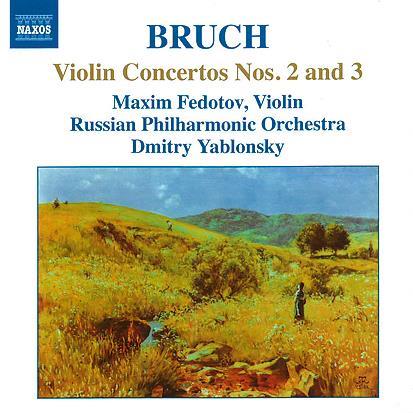 The Strad Issue: January 2009
Musicians: Maxim Fedotov (violin) Russian Philharmonic Orchestra/Dmitry Yablonsky
Composer: Bruch
To those of us brought up on the famous Menuhin LP of the Mendelssohn E minor and Bruch G minor concertos, comparisons between the two composers are inevitable. Bruch's heritage creates a direct link, but his music is a more passionate Romanticism, counterpoised here (especially in the Third Concerto) by masterly orchestration and a truly symphonic bearing. That we associate such traits with a powerful violin sound (with lots of vibrato) is a matter of what we've become used to, and this disc follows the expected formula. Maxim Fedotov delivers a committed sound very much in the Russian tradition, although his vibrato on the E string can be rather wearing, spoiling the more delicate moments of the slow movement of the Third Concerto in particular.
This is a valuable disc in many ways. In terms of repertoire, it reminds us that the concertos are interesting and should be better known – the Second is the more concentrated, the Third the more expansive, and although they both have notable similarities with the G minor First Concerto at various points, they are nonetheless fully independent works of considerable merit. The recording is very clean and the orchestral playing excellent. If you like 19th-century Romanticism served in the 'steel glove' of modern virtuosity, you will enjoy this disc.


David Milsom