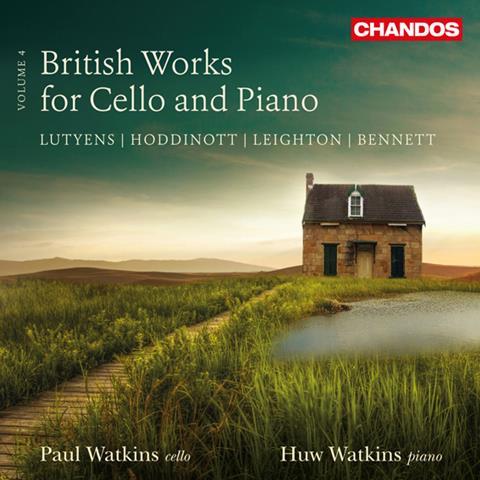 The Strad Issue: September 2015
Description: Sterling advocacy for four sonatas of the past century
Musicians: Paul Watkins (cello) Huw Watkins (piano)
Composer: Bennett, Hoddinott, Leighton, Lutyens
This brilliantly recorded disc showcases some works from the grittier side of British music from the second half of the 20th century. Each of the featured composers came under formative European influences: Kenneth Leighton studying with Petrassi in Rome, Elisabeth Lutyens deeply influenced by Schoenberg, Alun Hoddinott by Bartók and Richard Rodney Bennett by the Darmstadt school and Boulez. Such an awareness of continental styles infuses all the compositions with a tautly conceived sense of structure and an emphasis on †¨linear dialogue between the two instruments.
Of course, little-known works need championing, and in this regard Paul and Huw Watkins prove formidable exponents, providing incisive and well-characterised readings that eloquently convey the atmosphere of each piece. The most emotionally elusive work in this programme is probably Lutyens's Constants, which juxtaposes introspective moments with passages of more fervent declamation. In contrast, Leighton's Partita is far more accessible, offering a greater range of invention cast in a similar vein to Britten's later Cello Sonata †¨in C major. The opening two movements set the scene: an impassioned, unsettled tonality infusing the Elegy, before it is swept away by the edgy rhythmic motifs of the scherzo. Perhaps, though, the most persuasive work comes from Bennett, whose fluent Sonata (1991) covers impressively varied ground, ranging from the fierce rhythmic outbursts of the third-movement Feroce, recalling Bartók, to the more reflective Allegretto leggero, with its washes of almost impressionistic colour – aided here by a tremendously vibrant performance and vivid production.
JOANNE TALBOT