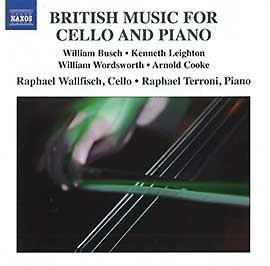 THE STRAD RECOMMENDS
The Strad Issue: January 2014
Description: Valuable rediscoveries from the more conservative school of British composition
Musicians: Raphael Wallfisch (cello) Raphael Terroni (piano)
Composer: Busch, Leighton, Wordsworth, Cooke
It seems clear from the booklet notes that the composers featured on this enterprising and clearly recorded release were far too reticent in promoting their work, particularly at a time when much tonal music was regarded as old hat. Another problem for William Busch (1901–45) and William Wordsworth (1908–88) was that their pacifism during the Second World War left them, unlike their similarly inclined contemporaries Britten and Tippett, regarded as outsiders relegated to the sidelines of music history.
Whether such judgements are fair, there's little doubt that each composer pursues a distinctive path. Undoubtedly Arnold Cooke is the most contrapuntally fluent, his allegiance to Hindemith strongly reflected in this Cello Sonata. Busch offers a more strikingly individual style, with some elegant writing that has character and definition. Likewise, Leighton's Partita is well constructed and has motivic bite. Its variations are particularly skilful and offer a wide range of material from the furious Appassionato to the more reflective concluding chorale.
Raphael Wallfisch is exactly the right cellist to bring this repertoire to a wider audience. Both he and Raphael Terroni bring fantastic energy and sharply etched phrase characterisation to their performances, which are arresting in their intensity, especially in the faster movements of the Busch. Although I can't see these works gaining a foothold in the repertoire, Wallfisch's searing renditions have brought them into the most favourable light possible.


Sound clip: Busch Cello Suite Prelude
Joanne Talbot