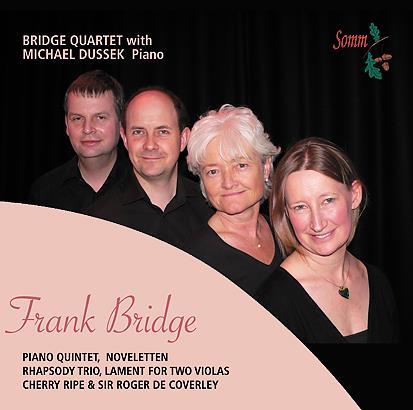 The Strad Issue: January 2009
Musicians: Bridge Quartet, Michael Dussek (piano)
Composer: Bridge
An outstanding recital of Bridge chamber works, ranging from those twin miniature ditties Cherry Ripe and Sir Roger de Coverley, to the glorious 1904 D minor Piano Quintet, originally in four movements but reduced to three in 1912, when Bridge united the two inner movements together as a continuous structure. That such an exquisitely crafted, post-Wagnerian score is not a mainstay of the piano quintet repertoire can only be explained in terms of its tantalising restraint. Like Fauré and Medtner, Bridge distils passionate intensity in a series of eloquent gestures that steer carefully away from overt, Tchaikovskian melody.
The three Noveletten for string quartet (also 1904) and the Lament for two violas (1912) are delectable mood paintings, whose chromatically inflected intensity and masterly scoring suggests an affinity with Schoenberg's turn-of-the century style. The Rhapsody Trio for two violins and viola (1928) is more bracingly experimental, its gestural changeability involving a wide range of effects.
It is a sign of the sheer quality of the Bridge Quartet's playing that even in the composer's more idiomatically remote passages, the music comes surging off the page. Ripely expressive, yet always sensitive to Bridge's textural inventiveness, this fine ensemble sounds utterly transported by these rarefied scores, enhanced by engineering of beguiling tangibility.



JULIAN HAYLOCK