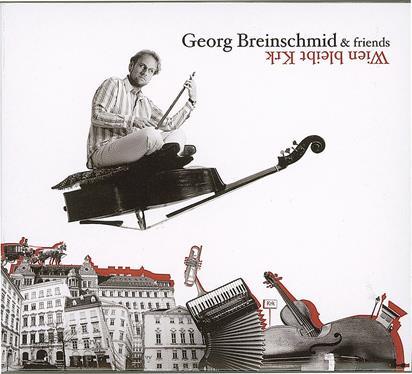 The Strad Issue: January 2008
Musicians: Georg Breinschmid (double bass) & friends
Composer: Breinschmid
Georg Breinschmid will be known to double bass aficionados as a member of the Vienna Philharmonic as well as numerous jazz ensembles. In recent years he has devoted more time to composition and already has six bracingly inventive albums behind him, including 2006's 'From Fritz to Django' with Benjamin Schmid for Oehms Classics. Although Breinschmid is not a native of Vienna, after years being based in the Austrian capital its café and popular music (and that of the surrounding regions) has left an indelible imprint on his creative thinking.
Imposingly engineered in various locations during 2006 and 2007, the 15 pieces showcased here possess a distinctly Viennese accent, although occasionally the influence of Balkan folk music (most notably in Balkandrom) also makes itself felt. Breinschmid possesses a gloriously full sound (especially vital in pizzicato) and an exhilarating sense of rhythm, as witness the opening Wien bleibt Krk, during which he subtly 'misplaces' the beat with split-second timing. He also adapts to the various musical styles so effortlessly that no-one listening could possibly discern whether his background was in jazz, folk, ethnic, pop, café or classical. Among the various 'friends' who drop in are distinguished violinists Beni [Benjamin] Schmid, Aleksey Igudesman and Sebastian Gürtler.
The bracing eclecticism of these endlessly inventive miniatures is established from the opening title track, Wien bleibt Krk, which runs the whole gamut from Piazzolla to popular Hungarian gypsy, reflecting what Breinschmid describes in his informative and helpful notes as Vienna's 'melting pot of music and cultures from many different regions'. En route there are four short interludes, including a jazzy Little Viennese Bass Solo from Breinschmid himself, and Stian Carstensen's indelibly Viennese accordion tribute to Mussorgsky, my dear old friend. Viennese waltz lovers will adore the hauntingly atmospheric Stammersdorfer Ausdruckstänze, while the gloriously eccentric I pee a hedgehog with long-lasting waves and (very) Strange Viennese Song (look out for in-jokes from Mozart's 40th Symphony, the Berg Concerto and Webern) should help blow away any remaining musical cobwebs.
JULIAN HAYLOCK