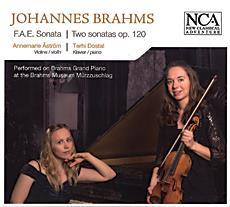 The Strad Issue: January 2013
Description: Elegant, spontaneous Brahms in period-influenced performances
Musicians: Annemarie Šström (violin) Terhi Dostal (piano)
Composer: Brahms, Schumann, Dietrich
Underpinned by pianist Terhi Dostal's own Brahms scholarship, this recording nods towards historical performance ideals, making use of gut violin strings and the reconditioned 1880 Streicher piano preserved in the Brahms Museum in Mürzzuschlag, Austria. Annemarie Åström and Dostal imbue the 'FAE' Sonata with a wide range of colour, phrasing Schumann's Intermezzo with an unforced naturalness. Their trio in Brahms's Scherzo seems understated, but they bring to life the often unrewarding content of Dietrich's opening Allegro and Schumann's capricious, polyphonic finale.
Their readings of the two clarinet sonata arrangements capture Brahms's serious, autumnal mood without undue heaviness. But their dynamic range is limited, and they incorporate some interpretative touches that may not enjoy universal appeal – Åström, for example, adopts a relatively clean approach to melodic realisation and only rarely takes advantage of portamento opportunities. Nevertheless, they phrase with elegance and spontaneity, and display a mature understanding of Brahms's melodic construction. Their third movement of op.120 no.1 has all the requisite grace and Viennese lilt, and Dostal drives the work's outer movements with urgent, incisive pianism. They make good sense of the often unmusically executed development and expressive coda of the first movement of op.120 no.2, and the lighter articulation of the period piano comes into its own in the scherzo. The contrasting characters of the finale's variations are captured with commendable artistry, and the recorded sound is natural and warm.


ROBIN STOWELL